These easy shrimp nachos are a nice change from your typical beef or chicken nachos. They are my version of Chi Chi's seafood nachos. Easy and delicious and you can make them in 20 minutes!
You might also like these easy beef nachos grande!
Another recipe reminiscent of my college days at Chi Chi's. Back in the day, we occasionally went to Chi Chi's. On these outings my friends and I would get either the beef nachos grande or sometimes their shrimp nachos.
I don't know why we liked them so much. Perhaps it was being up until 3am at parties the night before or maybe their food was just better than cafeteria food. Regardless my friends and I used to love them and I was craving them today.
I couldn't bring myself to use fake crab legs so I bought some shrimp and went forth and made these easy shrimp nachos. They were the perfect thing for our Friday night fish nights.
Ingredients For My Shrimp Nachos
From what I gather on the interwebz, Chi Chi's seafood nachos were essentially sour cream, mayo and fake crab a top corn tortillas. They also put Mexican cheese on top.
I didn't stray too far from that but I used frozen, cooked shrimp, green onion, mayo, sour cream, corn tortillas, Mexican cheese and fresh jalapeños on top.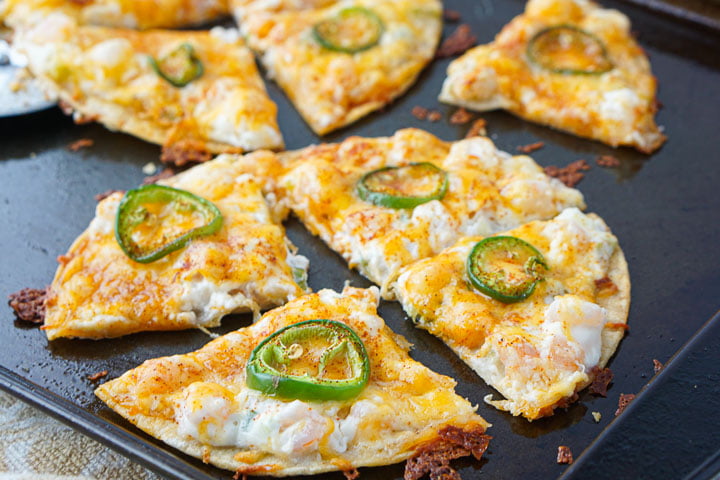 Let's Make Our Seafood Nachos!
Start to finish you can make these nachos in about 20 minutes. This is how I make them.
First you place the corn tortillas in the oven for 5 minutes to get them a little crispy.Let them cool.
In the meantime, mix up your seafood mixture. I used cooked shrimp that I cut in pieces. Mix the shrimp with some sour cream, mayo and green onions.
Spread that on the cooled tortillas.
Sprinkle some shredded Mexican cheeses on top and a little paprika for color.
Oh and don't forget the fresh jalapeños. Originally Chi Chi's would place a sliced black olive on theirs which is also good.
Bake for 10 minutes then cut in 4 pieces with a pizza cutter.
Other Ways To Make These Nachos
I also wanted to try these the way I make my other nachos, with lettuce, avocados, tomatoes and black olives. They were very good this way too. Just add the toppings after they have cooled a bit from the oven.
Other Seafood To Try
As I mentioned before I think Chi Chis used fake crab meat in their seafood nachos. That is something you can try if you like that. Other seafood items to try would be real crab, scallops or even lobster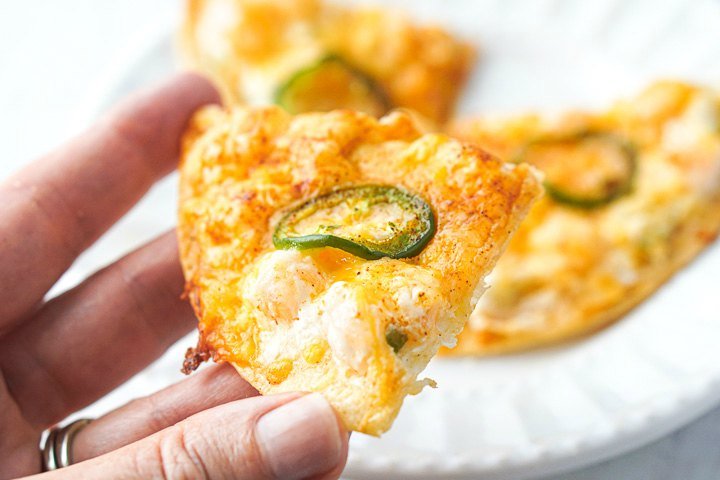 And that my friends is all there is to these easy shrimp nachos. I ate these for dinner but they would make a great snack, appetizer or even a quick lunch.
I hope you enjoy this recipe and I promise you this is my last Chi Chi recipe. Those were seriously the only 2 things I ever bought there. Enjoy!
Easy Shrimp Nachos in 20 Minutes
These easy shrimp nachos are a nice change from your typical beef or chicken nachos. Easy and delicious and you can make them in 20 minutes!
Ingredients
3 corn tortillas
12 large cooked shrimp
¼ cup sour cream
¼ cup mayonnaise
2 tablespoons green onions, chopped
1 cup Mexican blend cheese
1 jalapeno sliced, can substitute sliced black olives
paprika to season
Instructions
Preheat oven to 375 degrees.
Spray both sides of your tortilla and bake on a cookie sheet for 5 minutes.
Take out of the oven, flip and let cool a bit.
In the meantime, chop your shrimp into small pieces.
In a mixing bowl, add your shrimp, mayo, sour cream and green onions. Mix well.
Spread shrimp mixture evenly on the 3 cooled tortillas.
Sprinkle shredded cheese evenly over the tortillas.
sprinkle a bit of paprika for color.
Add pieces of jalapeños (or sliced black olives if you prefer) on top.
Bake for 10 minutes.
Cut with a pizza cutter and enjoy!
Recommended Products
As an Amazon Associate and member of other affiliate programs, I earn from qualifying purchases.
Nutrition Information:
Yield:

12
Serving Size:

1 grams
Amount Per Serving:
Calories:

95
Total Fat:

7g
Saturated Fat:

3g
Trans Fat:

0g
Unsaturated Fat:

4g
Cholesterol:

25mg
Sodium:

120mg
Carbohydrates:

3g
Fiber:

1g
Sugar:

0g
Protein:

4g