If you love nachos you won't miss out with these easy & healthy paleo nachos made 2 different ways. One way is a pile of sweet potato chips topped with all your favorite toppings. And the other is as individual chips topped with nacho ingredients for easy handling. Both ways make for a great healthy paleo snack or appetizer!
You might also like these low carb chicken nachos recipe!
We didn't do anything exciting for the Super Bowl this year. Our beloved Steelers weren't in it so we weren't into it. However I did see recipe after recipe for nachos and I just couldn't take it anymore. I had to make some.
I'm really trying hard to stick to my Paleo-ness, so tortilla chips were out. That left me with sweet potato chips. The thing is, I'm not a huge sweet potato fan. Sometimes I'm in the mood for them but not often. However I have to admit, they really work with these easy & healthy Paleo nachos.

My original idea was to make a sweet potato cup to hold the meat and toppings, but that didn't work out. So then I went straight to the sweet potato chip idea and made a big mound of nachos.
This is great if you are eating them yourself but if you have a party, this becomes messy and inevitably someone gets stuck with just chips because someone else hogged all the good stuff. I hate when that happens.
Paleo Nachos – The Big Mound – With Sweet Potato Chips
So then I thought I'd try to make the slices thicker and top them with the meat and avocado, etc. I just put a few on a plate and microwaved them and they turned out good! These would work better for a smaller party because it takes time to top them but they are easier for your guest to eat.
Paleo Nachos – Individual Sweet Potato Pieces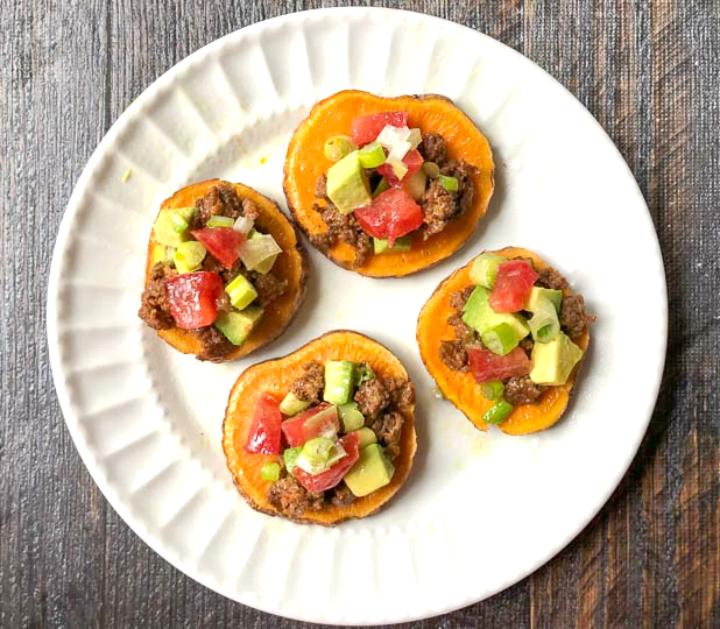 So this is the end of the tale of two nachos. One a big pile of goodies, the other a more edible bite of nacho yumminess. You pick the one that better suits you. They both have the meat filling in common and the toppings, it's just the base that's different. (Yes, it's all about the base.)
Let's Make Some Sweet Potato Nachos!
First make the meat topping and choose whether you want to make the mound of chips or individual nacho pieces.
Brown your ground meat or turkey and add the spices.
Next you want to stir in some salsa. This will make it thicker and easier to top the chips with and it gives it a bit more flavor. (Note: I always make extra meat because it's delicious on a bed of lettuce for a taco salad. I make those for lunch or even dinner.)
If you are making the chips, you need to slice them very thin, toss with oil and bake for 15-20 minutes.
If you are making the thicker chip, just cut them thicker and put on a piece of parchment paper and microwave for about 2 minutes.
Both types of chips require you to watch them so that they have your desired crispiness. You don't want to them to burn or dry out.
Lastly pile your chips on a big serving plate, or add your thicker slices to a serving plate. Top with your Mexican beef and pile on any desired toppings.
Toppings For Your Paleo Nachos
Strict Paleo does not use dairy but some do. If so you can choose to add some cheese or sour cream. Other wise you can use guacamole, salsa, chopped green onions, chopped tomatoes, lettuce, black olives, jalapeños, cilantro and/or chopped avocado. Lots of choices here!
A Note About The Sweet Potato Chips
First of all it's important to have uniform thickness for all your slices. That's why a mandoline is your best friend. I have a good mandoline from a Tupperware party which is very stable and has lasted forever. However I also have one from Aldi that was about $5 and I use it a lot too. It's more basic but works perfectly fine.
There are different ways to make sweet potato chips and you really have to find your own way. My suggestion is to either bake them in a 400 degree oven for 20 minutes, flipping half way through OR bake them in a 250 degree oven for 2 hours flipping half way. It all depends on your oven and how crispy you like them.
A Short Cut To This Recipe
You can make these much quicker in a few ways. I'm not saying this is the healthiest option, but sometimes you just don't have the time to make everything from scratch yet you still want to stick to your particular way of eating (Paleo in my case).
When you are doing this try to buy the best quality of products you can. Trader Joe's and Aldi's have some decent packaged products you can use, such as taco seasoning, salsas, guacamoles and chips. So if if you are in a hurry, this is how you can make these Paleo nachos quickly:
Brown the meat and use a packaged taco mix.
Add prepared salsa to the meat.
Buy sweet potato chips and scatter on a plate.
Top the chips with the prepared taco meat.
Add your toppings: prepared guacamole, shredded cheese, sour cream, chopped green onions, chopped tomatoes, chopped avocados, black olives, pickled jalapeños.
All you had to do was brown the meat and assemble the nachos! Hope you enjoyed these as much as I did.
Easy & Healthy Paleo Nachos 2 Ways
Two ways to serve Paleo Nachos. One in a pile of sweet potato chips or as individual chips topped with nacho ingredients for easy handling. Both delicious!
Ingredients
1

large sweet potato - thinly sliced or thicker slices depending on which type nachos you are making

2

Tablespoons

olive oil.

½

lb

ground beef

2

teaspoons

chili powder

1

teaspoon

cumin

½

teaspoon

salt

½

teaspoon

pepper

¼

teaspoon

garlic powder

¼

teaspoon

onion powder

¼

teaspoon

paprika

¼

teaspoon

oregano

½

cup

salsa

4

green onions, sliced

1

tomato, chopped

guacamole or 1 avocado chopped
Instructions
To make sweet potato chips.
Thinly slice your sweet potato and coat with olive oil. Salt and pepper to taste.

Lay on a cookie sheet lined with parchment paper and cook for 20 minutes in a 400 degree oven or until brown and crispy. Flip halfway through cooking time.
To make individual sweet potato slices.
Cut the sweet potato in thick slices and place on a microwave safe dish or parchment paper. Cook for 2 minutes until they are soft but sturdy.

While the sweet potatoes are cooking, brown your grown beef in a sauté pan. Add your spices and salsa and continue to cook for 5 more minutes.

To make individual slices: When potato slices are done, arrange on a plate and top with ground meat mixture and toppings of your choice. I used a bit of avocado, tomato and green onion.

To make a mound of nachos: arrange a big pile of sweet potato chips, then top with the meat mixture and any of the following: shredded chess and sour cream (if you do dairy), guacamole, tomatoes, avocados, green onions, olives, pickled jalapeños, cilantro all work nice.