This Asian cooked greens side dish will literally take only minutes to make and it's low carb too! So next time you are looking an easy and healthy side dish, you can make these sesame greens in 10 minutes and they have only 1.8g net carbs!
You might also like these low carb slow cooker Alfredo greens!
I really like eating greens but I don't do it enough. They are so good for you and can be very tasty when you season them or mix them in with other foods. I often add them to soups or eat them as salads but today I wanted to let all that greenness shine through with a little help of garlic and sesame flavoring.
This Asian cooked greens low carb side dish takes less than 10 minutes to make. So it's a great throw together healthy recipe that will go with any kind of meat or seafood main dish.
Easy Sesame Greens Side Dish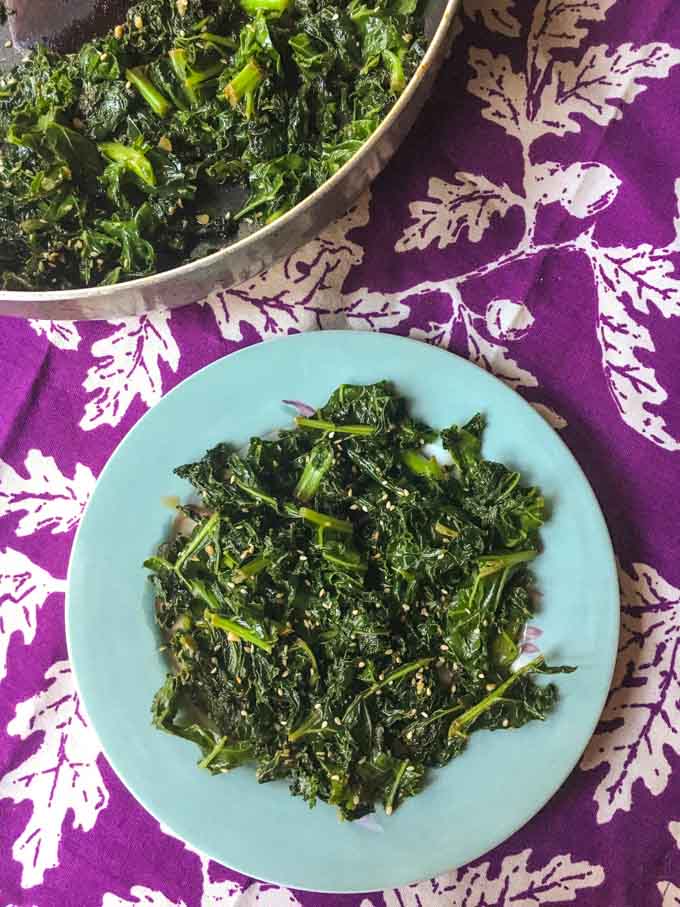 Why Are Greens Good For You?
So why are greens so good for you? Greens are full of hard to obtain minerals and vitamins, they are low calorie but nutrient dense and just very easy to prepare and eat. Check out what Mark Sisson, one of my favorite Primal/Paleo experts has to say about them here if you are interested.
And if you already like greens, I've made a tasty beans, bacon and greens dish you may like. Also I have a beans and greens dish that does double duty the next day as a tasty sausage soup. (You can see pics at the end of the post.)
Asian Cooked Greens Recipe
So this dish calls for 12 cups of greens. That sounds like a lot doesn't it? However greens cook down to almost nothing so the 12 cups in this recipe ended up filling a large skillet.
I used organic greens I got at Aldi. You simply heat some olive oil in a pan and add the crushed garlic. Saute a minute until fragrant and then slowly add your greens and broth a little at a time. As your stir them around they will shrink and you can add some more.
Make sure you chop all your greens into small pieces so they cook quickly and are easier to eat. At the end, add some sesame oil and sesame seeds.
And there you have it. Easy peasy, greensy, sesamesy (that was hard to get through spell check). A super easy, tasty and healthy side dish to add your repertoire this coming year! Enjoy! The nutrition per serving is:
94 cals / 8.3g fat / 3.4g carbs / 1.6g fiber / 2g protein = 1.8g net carbs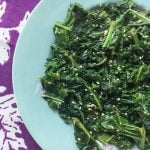 Easy Low Carb Asian Cooked Greens with Sesame
This easy sesame greens side dish will literally take only minutes to make. An easy, healthy and tasty way to eat your greens.
Ingredients
2

Tablespoons

oil

12

cups

greens, chopped

2

teaspoons

garlic, crushed

½

teaspoon

salt

¼

teaspoon

pepper

¼

cup

chicken broth

1

Tablespoon

sesame oil

1

Tablespoon

sesame seeds
Instructions
Heat up a large saute pan to medium and add your oil.

Add the crushed garlic and saute for 1 minute until fragrant.

Add the greens a little at a time and continuously stir to make the greens wilt. Pour a little broth to help the process a bit.

Sprinkle salt and pepper and mix well. When all the greens are wilted take off the stove.

Pour the sesame oil over the greens and mix well.

Sprinkle sesame seeds over the top and serve.
THIS POST MAY CONTAIN AFFILIATE LINKS. FOR MORE INFORMATION PLEASE VISIT OUR POLICIES PAGE.
---
More Tasty Greens Dishes