Cashew curried vegetable rice is quick and easy and healthy. No actual rice but vegetables made to be rice. A delicious, vegetarian dish in less than 10 minutes and it's low carb too (4.6g net carbs)!
You might also like this low carb cheesy broccoli & cauliflower rice.
This cashew curried  vegetable rice falls under the "a bit crazy" category. I've been making cauliflower rice like it's going out of style and thought what about the other poor neglected vegetables. So I picked a few colorful ones like carrots, broccoli and red cabbage and gave it a whirl. The result was pretty awesome. Well awesome for a vegetable dish. My husband liked it so much I made it twice last week and he's not even on a diet or anything. There is something about the cut of a vegetable that gives it a different taste. Did you ever notice how a carrot tastes different when it cut into rings or sticks or even smaller shreds? If so, now you have to taste it riced. It really does taste different.
What Vegetables Can You Make Rice From?
Below you can see my vegetables chopped up into rice. I just used my mini food processor and one by one pulsed until they were in little bits like rice. This is one kitchen tool I use all the time because I hate lugging out my big food processor. Anyway, what beautiful colors, huh?
Curry Spices & Frontier Co-op 
This is the curry spice that I used. I used to have an herbal gift shop way back when and we sold Frontier Co-op  products. They have thousands of quality, natural products. We are talking everything you need to cook, craft or heal your body with organic herbs, spices and other botanicals. Good stuff. (This is not a sponsored post….I just really like them. 😉 )
Another cool thing about them is that you can sign up with your friends and neighbors to form a buying club and get wholesale prices. You can check it out here if you are interested. Or you can get it on Amazon too.
Vindaloo is of course pretty hot so just use what ever curry spice you like. It's the curry flavor that you are going for. I have a nice set of very unusual spices from Trader Joes that my step daughter bought me and I want to use those next time. It has Ras El Hanout, Zhoug, and Pilpelchuma. They were really tasty but I didn't know exactly how to use them but I think this will be the perfect application for them.
Cashew Curried Vegetable Rice Recipe
To make this dish, I melted some coconut oil in a large saute pan. Then I added the curry powder and mixed it in with the curry powder. Lastly, I added the vegetables and sauteed for about 5 minutes. When it's done, just garnish with cashews and cilantro and you're done. Delicious!
A Quick Version Of Curried Vegetable Rice
(12/7/18) Today I made this recipe very quickly with a few cheats. I bought a bag of riced vegetable medley from Trader Joes. Below you  can see the bag. It has cauliflower, broccoli, carrots, green & yellow onions. The whole page had 15g net carbs.
I made the recipe the same way but I just dumped the whole bag in and used toasted almonds on top. This recipe came out to be 133 cals and 5.3g net carbs per serving and it only took about 10 minutes.
So if you are at Trader Joes or if you local grocer has riced vegetables, grab a bag because this is a really easy, healthy and even low carb lunch to make.
The whole point of this post is the idea of the vegetable rice. Whatever seasoning you use on it is up to you, so be creative! Experiment with herbs and spices, seeds and nuts. And please drop me a line and let me know if you come up with a good one, because I would love to hear about it.  Enjoy! (scroll down for nutrition information)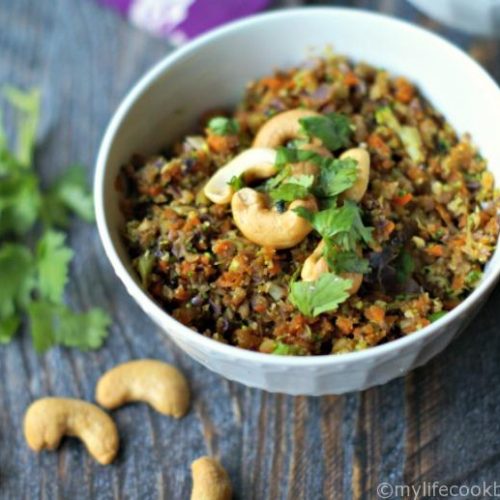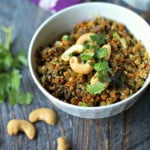 Cashew Curried Vegetable Rice
Cashew curried vegetable rice is quick and easy and healthy. No actual rice but vegetables made to be rice. A delicious, vegetarian dish in less than 10 minutes and it's low carb too!
Ingredients
2

cups

riced cauliflower

2

cups

riced broccoli

3

Tablespoons

curry powder

2

cups

riced red cabbage

2

cups

riced carrots

½

teaspoon

salt

2

Tablespoons

coconut oil

½

teaspoon

pepper

¼

cup

cashews

cilantro for garnish
Instructions
Rice each vegetable separately by pulsing in a food processor. Don't puree but just pulse until the vegetable turns into rice like pieces.

In a large skillet add your coconut oil and melt.

Then add your curry powder and mix well.

Lastly add your vegetables and mix well so the spices get on all the vegetables.

Saute for about 5 minutes and vegetables are cooked but not mushy.

Sprinkle cashews and cilantro on top and serve.