This shop has been compensated by Collective Bias, Inc. and its advertiser. All opinions are mine alone. #SilkSipToSpoon #CollectiveBias
Enjoy a filling low carb berry smoothie for you and a healthy breakfast ice cream for your child. Both are quick, dairy free and lactose free breakfast ideas.
I've told you how I'm not much of a breakfast person but since I'm still on track for eating healthier this year, I try my best to at least have a low carb, protein smoothie. Actually it's been a nice morning routine for my son and I. I make one for Max and one for myself and it's a little bit of time we spend together before he goes off to school. My smoothie is more like a low carb meal replacement. I like to pack in some healthy ingredients like almond milk, green tea matcha, grass fed gelatin, berries and almond butter. I usually make Max's a bit different because I really just want to get more fruits in his diet. Recently, I've decided to give him "breakfast ice cream" as part of his breakfast. It's really just berries, almond milk and yogurt and we eat it often for dessert but having it for breakfast just seems like more fun, doesn't it? Well at least he thinks so. 😉

We always drink almond milk in our house and have for years. Max has bad allergies and I feel that too many milk products make him more stuffed up so we started drinking almond milk instead. It was an easy substitution for us. We use it every morning for my hubby's oatmeal, my smoothies and Max's cereal. I even use it in macaroni and cheese. The nice thing about Silk Almond milk it that it has 50% more calcium than dairy milk so that's good for all of us. And for myself, I was surprised to find that Silk's Unsweetened Vanilla Almond Milk had only 30 calories and negligible carbs per cup. I'm always trying to find brands that have the least amount of carbs for my recipes.
When I was at Walmart to get my almond milk, I noticed that they had a Silk Dairy Free Yogurt. I was psyched to see that it's dairy and lactose free and it had 6g of protein.  I thought this would be the perfect thing to put in Max's breakfast ice cream. That coupled with some frozen berries and the almond milk would make a tasty, healthy  addition to Max's breakfast. So here's how you make the breakfast ice cream.
Berry Breakfast Ice Cream
Breakfast ice cream is a fun way for your kids (or yourself) to start the day. Quick, healthy and tasty make this a go to breakfast in our house.
Ingredients
2

cups

frozen berries

1

container Silk Non-Dairy Yogurt

we use blueberry or vanilla

¼

cup

Silk Vanilla Unsweetened Almond Milk

sweetener if desired

optional
Instructions
Add all ingredients to a high speed blender starting with your milk and process until smooth and creamy.

If you would like a harder consistency, freeze for 5 minutes and then scoop.

Note: This is not overly sweet so if you want to make it sweeter, try some stevia, coconut sugar, maple syrup or honey.
For my berry breakfast smoothie I was going for something that would keep me full all morning. For me that means protein, fiber, healthy fat, and vitamin rich fruit all with a reasonable calorie range and low carb. That's what works for me. It's sometimes hard to hit everything on that check list but I have with this smoothie. The ingredients are almond milk (low carb, dairy free), almond butter (healthy fat), berries (vitamins and antioxidants), grass fed gelatin (clean protein), ground flaxseed (fiber) and a little matcha green tea for a bit of caffeine and antioxidants.  I also sweeten it a bit with some stevia. You would be surprised how this keeps your satiated until lunch time. I've found this combination of ingredients does the job for me. Hopefully it will work for you too!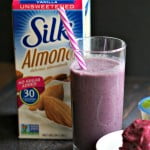 Berry Breakfast Smoothie
This breakfast smoothie will keep you full all morning with protein, fiber, healthy fat and a little matcha for caffeine.
Ingredients
1

Tablespoon

almond butter

1

cup

Silk Vanilla Unsweetened Almond Milk

½

teaspoon

matcha tea

1

Tablespoon

Great Lakes gelatin

green container

1

Tablespoon

flax

½

cup

frozen berries

sweetener to taste

I used liquid stevia
Instructions
Add all ingredients to a high speed blender starting with the milk, and blend until smooth and creamy.

Note: The almond butter gives this smoothie a bit of a nutty flavor. If you would rather have more of a berry taste, try using another healthy fat such as coconut oil, avocado or just omit if you want.

cals = 233 / fat = 13.8g / carbs = 15.3g / fiber = 5.6g / protein = 12.5g Net Carbs = 9.7g
Well that's all I have for you today. This is a typical quick and easy breakfast for Max and I. My smoothie fills me up until lunch and Max's breakfast ice cream is a healthy, dairy free addition to his breakfast that he just loves.
What do you use in your morning smoothies and shakes? Have you made breakfast ice cream yet? Drop me a comment and let me know. I love hearing your ideas and recipes! Find more great dairy free recipes here. Walmart will be having demonstrations of these products January 21 -24th so you can see these products in action.
[bctt tweet="Berry Breakfast Ice Cream & Low Carb Smoothie – #SilkSipToSpoon #ad"]