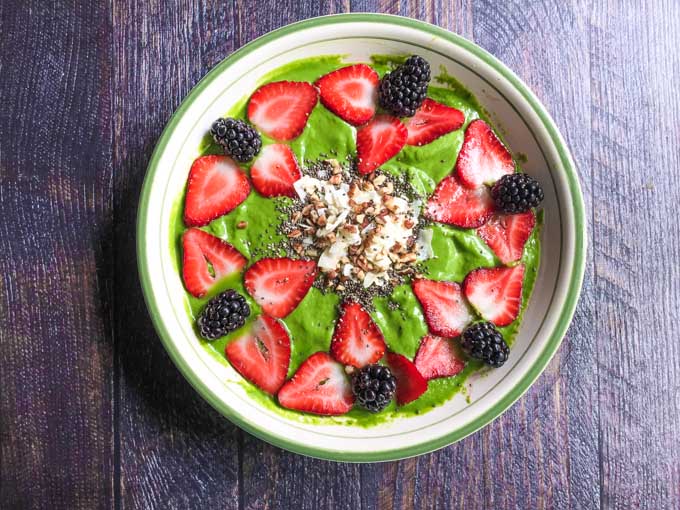 This low carb matcha smoothie bowl is the perfect dish to get you going in the morning. I have been a fan of smoothies for along time. They are the perfect thing to grab and go in the morning if you aren't much of a breakfast eater or if you don't have the time. However on the weekend it's nice sit at the breakfast table and savor a nice breakfast. My hubby fires up the waffle maker and they all have waffles. A sugary waffle will make me want to take a nap so instead, I have this big beautiful bowl of smoothie. It has everything I want in a breakfast; matcha green tea, baby greens, delicious berries, crunchy pecans and coconut flakes as well as healthy fiber from chia seeds. Plus it's pretty to look at!
This is not the most perfect looking smoothie bowl. I took a few pictures in a hurry because I liked it so much and I got a little excited about it. I often see the most beautiful smoothie bowls on Pinterest and always wanted to make one but for me there were just too many carbs. Then I got to thinking about the low carb smoothies I make such as my matcha mango smoothie or my filling peanut butter smoothie, and I figured I could used one of those for base. For toppings to keep it low carb, I used just a few berries and lots of crunchy items like unsweetened coconut flakes, pecans and chia seeds. I like the crunch personally. So this is my first smoothie bowl. I can see where I need improvement in my display but the taste and nutrition are there.
Low Carb Matcha Smoothie Bowl
In my opinion this was a success. A little more about the ingredients:
low carb berries are full of fiber and antioxidants
baby greens are full of vitamins and minerals
matcha green tea is full of antioxidants and gives it a kick of caffeine
coconut flakes for a dose of healthy fats and crunch
pecans for healthy fats and crunch
chia seeds for fiber and crunch
That is my first smoothie bowl folks. I hope you like it as much as I did! This recipe makes 2 servings and the nutrition for 1 serving = 204 cals/ 16.6g fat / 12.4g carbs / 7.2g fiber / 3.9g protein = 5.2 g net carbs
Low Carb Matcha Smoothie Bowl
This low carb matcha smoothie bowl is the perfect dish to get you going in the morning.
Ingredients
½

avocado

2

handfuls greens

½

teaspoon

matcha

1

cup

almond milk

stevia

4

strawberries

6

blackberries

1

Tablespoon

coconut flakes

1

teaspoon

pecans

crushed

1

teaspoon

chia seeds.
Instructions
In a high speed blender add your avocado, greens, matcha, almond milk and stevia. If you want it colder add a few ice cubes.

Pour into a large bowl.

Use your toppings of berries, coconut flakes, pecans and chia seeds to decorate the top.

Enjoy!