This salted caramel keto protein ice cream recipe is made in the Ninja Creami machine. This ice cream machine is the best way to make creamy and delicious ice cream that is sugar free and low carb. And it tastes like store bought using a few simple ingredients. You can also use this recipe in a regular ice cream machine. Each serving has just 85 calories, 4g net carbs and 15g protein!
You might also like this no churn chocolate peanut butter keto ice cream.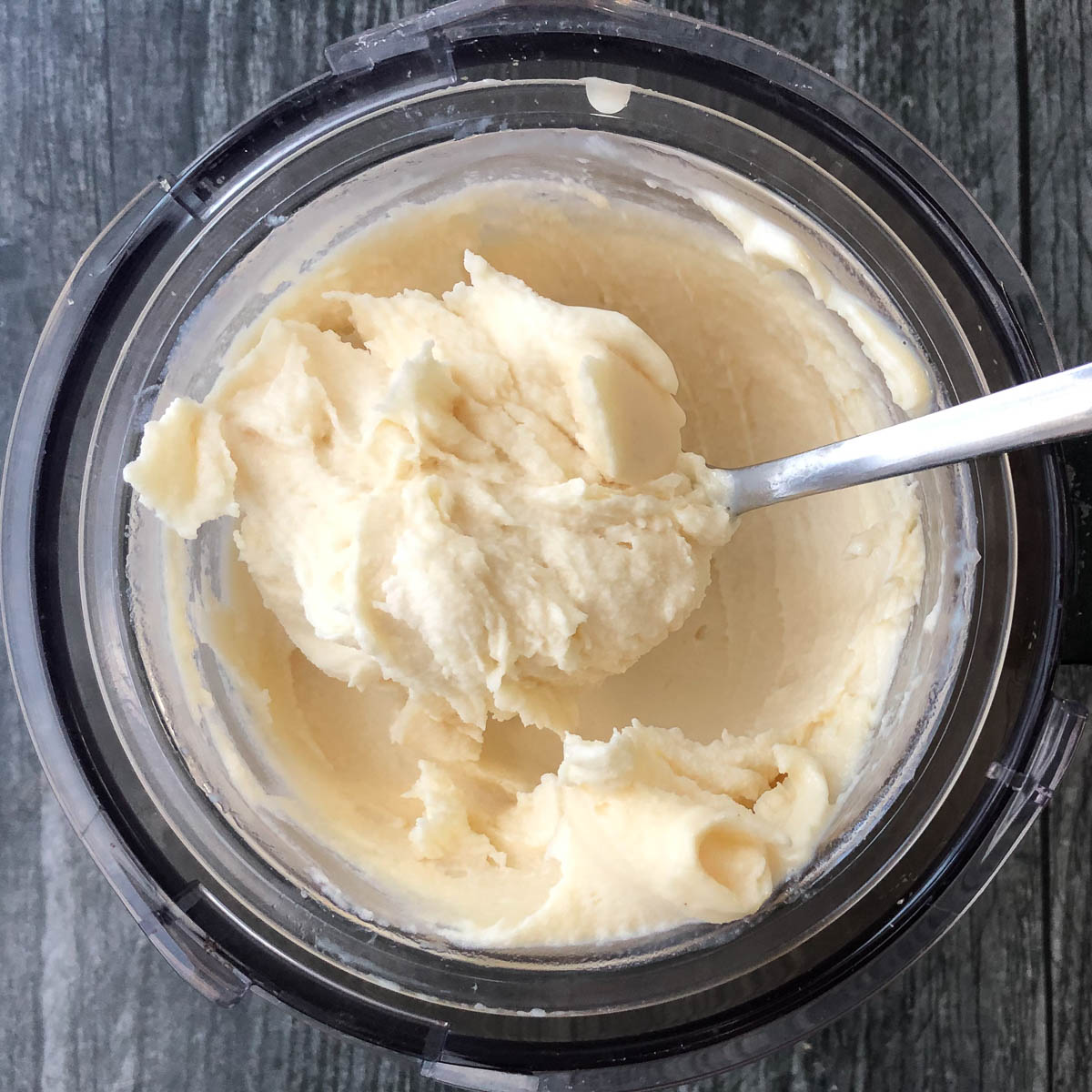 I have such a sweet tooth and was very excited to get this Ninja Creami Machine and have been making all kinds of healthy ice cream recipes like this salted caramel keto protein ice cream. To me there is nothing better than a bowl of ice cream for dessert!
You just need 2 ingredients though I used 4 and one of them was salt! The result was an unbelievable creamy pint of ice cream that is low carb, high protein, low calorie and low in fat compared to regular ice cream. What a healthy treat!
Best of all it tastes great! Even my son and husband have been won over with the taste and texture of this healthy keto treat. And if you don't have a Ninja Creami machine, maybe this will convince you to get one. Otherwise you can just use a regular machine.
About the Ninja Creami Machine.
The Ninja Creami can make ice cream, sorbets, gelato, smoothies and milkshake. You make the base mixture and have to freeze them overnight but you then use the machine and you have ice cream (or whatever you want) in about 5 minutes.
I have been wanting to buy one of these for about 6 months now and I finally broke down and bought one. I am so happy I did. These easy keto ice creams are the reason why. I've tried them with a regular ice cream maker and while they were good they were not as good as this machine.
It sort of works in reverse from regular ice cream makers which starts with frozen bowl that you pour your liquid mixture in and then let churn for 30 minutes. The Ninja Creami starts with a frozen pint of the base mixture and then grinds it into a smooth and creamy ice cream in minutes.
It comes with 2 pint size freezer containers that you use with the machine. I bought 2 more of these airtight containers so I have a few flavors in the freezer and then just whip up a batch when I'm in the mood.
Recipe ingredients I used.
You only need 3 ingredients to make this simple recipe – sugar free vanilla pudding, Fairlife salted caramel protein drink and sweetener. I also add a bit of salt too but that was optional.
About the protein drinks – you can use whatever protein drink you like. I find that Fairlife makes the best for this recipe and I really like the flavor of the salted caramel.
However you can also make a protein shake and use that. I have a few recipes coming up that use vanilla protein powder or chocolate protein powder along with unsweetened almond milk, coconut milk or coconut cream and it works well too.
For low carb sweetener I love this SweetLeaf English Toffee liquid stevia. You can use any kind of sweetener you want. Just taste the finished mixture and if you feel it needs more sweetener use your favorite sweetener. If you use plain sweetener you might want to add vanilla extract.
NOTE: Because there is not much fat in this recipe, I feel it needs to be really sweet from the beginning. Then when it freezes it loses a bit of the sweetness and it's ok.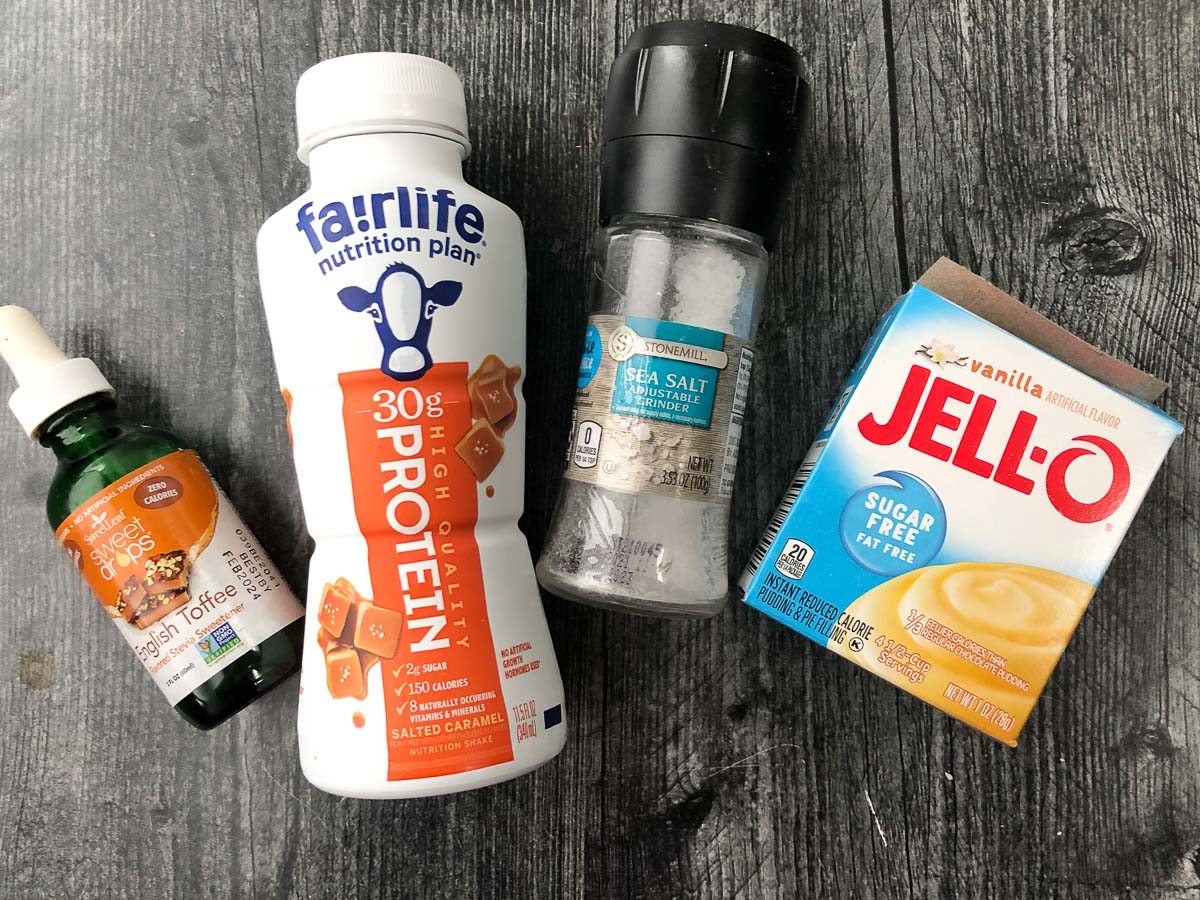 How to make salted caramel keto protein ice cream with the Ninja Creami machine.
Whisk together the salted caramel protein drink, sugar free pudding and if you want sprinkle in some salt to make your ice cream base. You can also use a blender or food processor to get it blended well.
Taste to see if it is very sweet to you. I like it sweeter so I use liquid stevia drops but you can use whatever sweetener you want.
Pour into the Ninja pint jar and put the lid on. Place in the freezer for 20-24 hours. Make sure that it freezes flat.
The next day take out of the freezer, take off the lid of the pint container and place in the machine. hit the Lite ice cream button. When it's one it will be powdery like the middle picture on the left.
Place it back in the machine and run it through the Lite cycle again. (Middle picture on the right). Note that it's powdery in texture. Don't worry about that. It will become creamy.
Add a tablespoon of unsweetened almond milk if you want and run it through the cycle again. You may have to do this 3-4 times until it gets that creamy texture like the last picture. Each batch seems to be different to me so you might have to play around to get the hang of it. Each cycle is just a little over 2 minutes.
Eat right away for best results. If you only eat half you can put the lid back on and eat the rest later. You will probably want to run it through the machine again. I have set it in the microwave for 15-30 seconds to soften it but it taste better when run through the machine again.
Please scroll down for the printable recipe card.
When it's done it looks like the picture below. Can you believe you can get creamy ice cream just from a low carb protein shake and a spoonful of pudding mix?!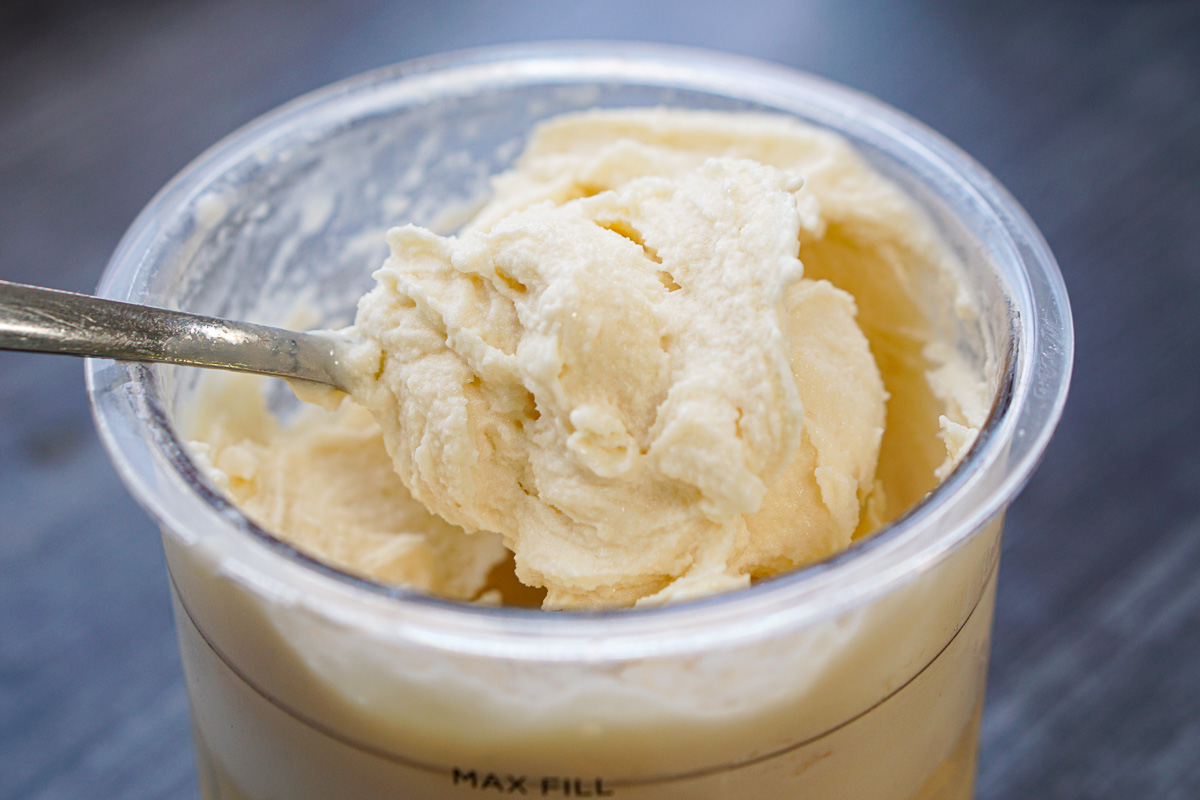 To make this in a regular ice cream machine.
To make this keto protein ice cream just mix the ingredients together and pour into your ice cream maker. Follow the manufacturers instructions.
I have not made this like a no churn ice cream. That is I didn't just freeze it in a shallow container and scoop when frozen.
If you look at the mixture when frozen in the collage of pictures you will see all the ice crystals. Without all that heavy cream and fat I don't think it would work. But I have never tried it so I'm not sure.
Ideas of things you can mix in with your ice cream.
The low carb ice cream itself is delicious but you can always add mix ins to take it to the next level. (NOTE: To mix things in, add the pieces to the middle of the container and run it through the machine by hitting the "mix ins" button.)
sugar free syrups – Lakanto and Pureyer have sugar free syrups that you can try. Even Lakanto maple syrup is very good and you can add some walnuts with that.
keto cookies – I've been trying different keto cookies to see if they would be good and I really like Aldi's Benton brand. You don't get many cookies in the bag but you only need 1-2 cookies to mix in.
dark chocolate – Chocozero chocolate chips, Lily's chocolate chips or any kind of sugar free chocolate chips will work well. You can also take your favorite dark chocolate bar and using a microplane grate some into the ice cream. You can also use unsweetened cocoa powder to make any kind of chocolate flavor.
nuts and seeds – These pumpkin spice pecans or any candied nut would be delicious. Chop up your favorite nuts and add for crunch.
nut butter and sugar free jams – If you use the Mix in button for these they will become part of the ice cream. To get a vein of these in the ice cream do it by hand. Try almond butter or natural peanut butter.
keto cereal – Homemade keto granola would yummy and if you have a favorite keto cereal try that.
other healthy mix ins – toasted coconut, cacao nibs, low carb fruit like berries, etc would all be good.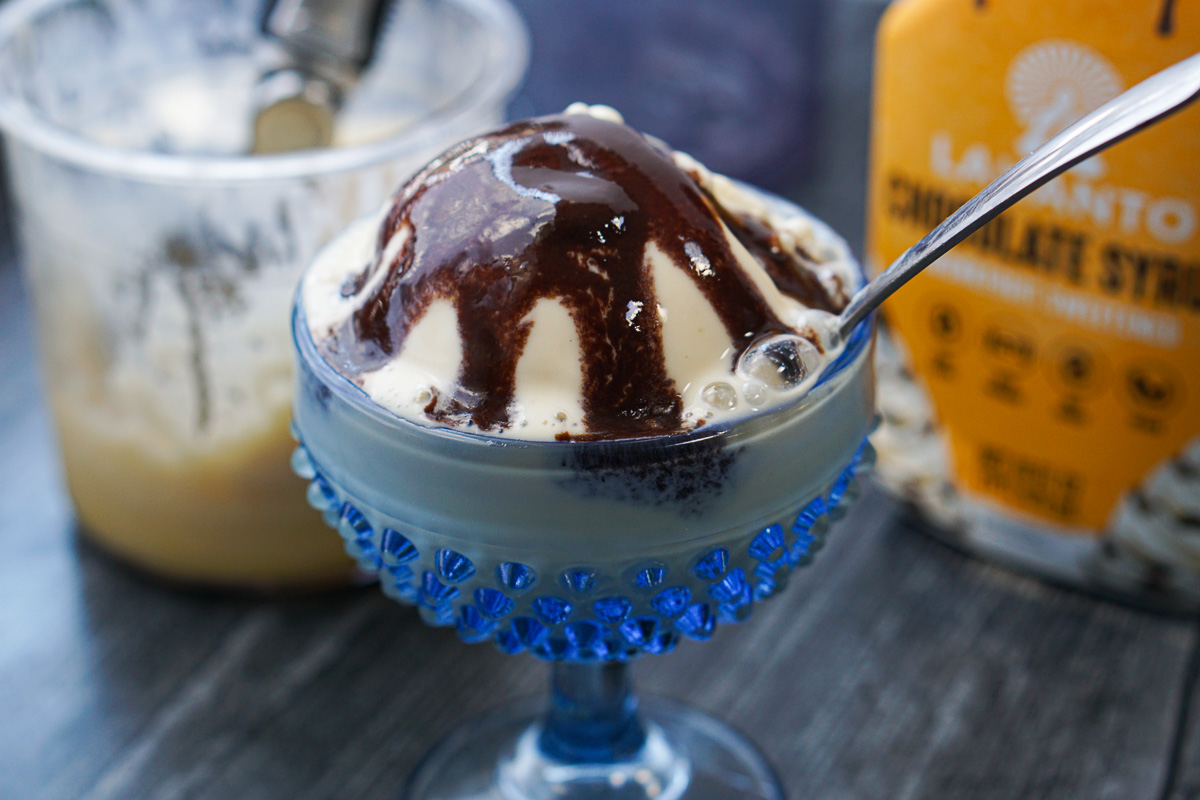 Above you can see how the ice cream is getting melty and I tried some yummy Lakanto sugar free chocolate syrup. The options are endless!
So I highly recommend you buy a Ninja Creami Ice Cream machine. If you are all interested start watching videos online and you will get excited about it too.
I just loved this homemade protein ice cream so it was definitely worth it for me. And while I'm playing around with flavors, this has become my of my favorite recipes because it's easy and delicious. Enjoy.
The nutritional information for 1 serving is 85 calories / 1.2g fat / 4g carbs / 15 g protein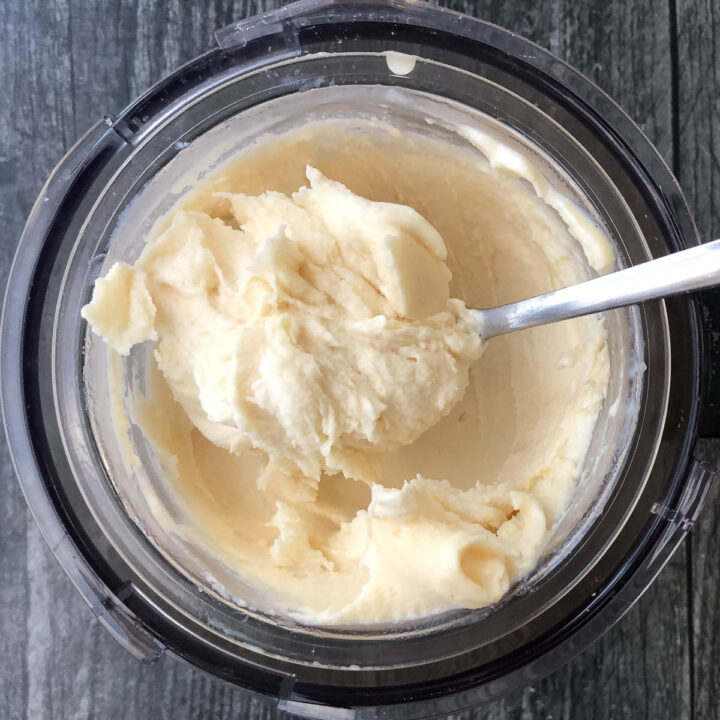 Salted Caramel Keto Protein Ice Cream Recipe
Total Time:
1 day
5 minutes
If you miss ice cream on a keto diet, try this salted caramel keto protein ice cream. Not only is low carb, but it's also low calorie and low fat as well as being high protein.
Ingredients
11.5 ounce bottle FairLife salted caramel protein drink
1 tablespoon sugar free vanilla pudding mix
liquid stevia sweetener (I like Sweetleaf English Toffee)
sprinkle of salt
Instructions
Whisk together ingredients in glass pyrex measuring cup or blend in a blender. Pour into the Ninja Creami pint cups and place the lid on. Place in the freezer for 20-24 hours. Max sure you set it in on a flat surface in the freezer.
The next day place the pint without the lid into the machine and hit the Lite Ice Cream button. Note that it's powdery in texture. Don't worry about that. It will become creamy. You may have to do this 3-4 times to get the mixture nice and creamy. If after 3 rounds it still seems too crumbly, you can add a tablespoon of almond milk.
When done, take it out of the machine and spoon into a bowl and enjoy! This recipe makes about 1 pint of ice cream and therefore 2 servings. If you can't eat it all, place the lid back on and store in the freezer. When ready to eat again place it in the machine and run 2-3 cycles to get it nice and creamy again.
Notes
The nutritional information for 1 serving is 85 calories / 1.2g fat / 4g carbs / 15g protein
Nutrition Information:
Yield:

2
Serving Size:

1
Amount Per Serving:
Calories:

85