These gift ideas for the low carb dieter are for anyone who likes to watch what they eat or likes healthy cooking.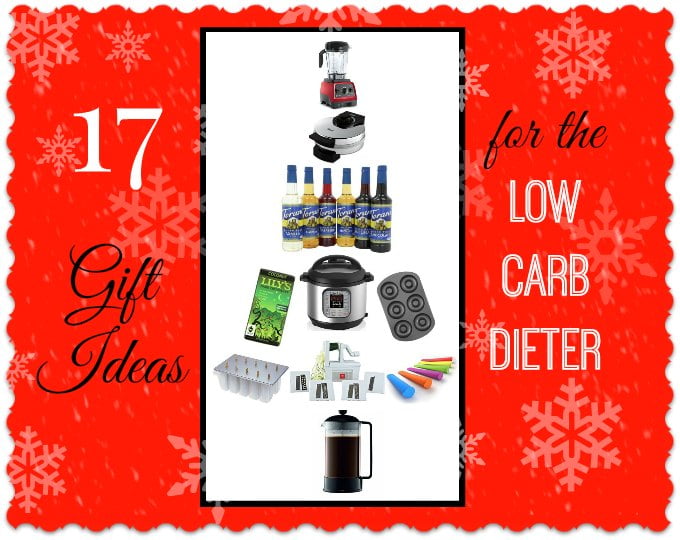 As a low carb dieter over the years, I have learned of different tools, tricks and products that have helped me stay the course. From high speed blenders to uber dark chocolate, I have something here for everyone that likes to cook and/or likes to watch what they eat. Let's get started.
THIS POST MAY CONTAIN AFFILIATE LINKS. FOR MORE INFORMATION PLEASE VISIT OUR POLICIES PAGE.
---
Small Appliances
---
Vitamix Blenders: I'm sure if you were ever strolling through Costco or Sam's Club you might have seen a demonstration for this mixer or maybe you saw it on QVC like I did. It is probably the most used small appliance I own. I use it everyday for smoothies and bullet proof coffees and lattes. However I also use it for nut milks, vegetable purees, soups and nut butters. It is wicked powerful. Even my husband started using it for his smoked salsa verde. It's cool, trust me on this one. I can only vouch for this brand but I'm sure there are other great blenders out there like Blendtec too. Click here to check the one I have out.
Instant Pot: This is a rather new gadget for me. My step daughter told me about it and I was intrigued and bought it on an impulse. It does just about everything from making yogurt to making tender ribs in a half an hour. I most appreciate it's pressure cooker abilities. I make a lot of soups, stews and curries and this Instant Pot makes the meat fall apart tender in such a short period of time. This particular one that I have, has 7 functions: Pressure Cooker, Slow Cooker, Rice Cooker, Saute/Browning, Yogurt Maker, Steamer & Warmer. I haven't explored this one thoroughly yet but I would buy it just for the pressure cooker and warming modes. It's pretty darn cool if I say so myself. Check it out here.
Paderno Spiralizer: I love, love, love this invention. Who ever thought of veggie noodles should get the gold medal in cooking inventions. I use this one frequently. I am obsessed with veggie noodles and I have about 10 recipes on my site for various noodle dishes. I like that this one has thicker noodles and thinner ones. So far it's been great for me and if you know some one who want to eliminate pasta from their diet or just wants to eat more vegetables this is the gadget to get. Check it out here.
Oster Ceramic Wafflemaker: We use this ALL THE TIME. My hubby makes about 10 waffles every weekend for our whole family and I make a variety of low carb waffles like my pizza waffles, zucchini waffles and my bacon blue cheese burger waffles. It's inexpensive, nothing sticks to it and we just love it. I bought mine at Target but you can also get it on Amazon here.
---
Cooking Tools
---
Wilton Donut Pan: This is a great tool to make your own low carb bagels or donuts. I personally have made bagels a few times but not any donuts… yet. It's non stick and great for when those bread cravings hit you. Check it out here.
Silicone Reusable Popsicle Tubes: These are great for many things. From a low carb ice cream pop or to make your kiddos a healthy gogurt. They are just like those freeze pops you grew up with but are reusable and you can fill them with anything you like! I even make a good coffee or tea drink to fill these up with. Easy to clean too! Check them out here.
Popsicle Mold with Segmented Stick Holder – I have a lot of popsicle molds but this is one of my favorites because of the lid. It keeps your sticks in the right position and makes lovely popsicles. It also sits nicely in the freezer and is easy to clean. Again I fill this with coffee, tea, smoothies, low carb pudding … you name it. Check them out here.
Disposable popsicle bags: These are little popsicle ziplock bags. I think these too are awesome. They are disposable so you could make them for your kids and they could just throw them away. I'm sure you could reuse them if you wanted. I had a batch that you had to tie at the top but they were not as nice as these. You could also make a big batch for a summer party or something. Click here to check them out.
Silicone candy molds: I use these silicone molds a lot. I make lots of frozen chocolate treats to nibble on and these are cute, small and easy to use. I make a low carb chocolate candy that I eat all the time. I also make dog treats in these molds. However I only use them in the freezer. I don't think they are for baking. You can check them out here.
---
Low Carb Food Treats
---
Coffee and tea are a dieter's best friend. I love to sip on both during the day with all the great flavor selections available for both. They virtually have no calories and are even good for you! Like this chocolate truffle coffee, I would sip as a hot drink with some cream and sweetener. I would also drink it on the rocks or make a popsicle out of it. Check it out here! Also Steeped Tea has a GREAT selection of teas that are super flavorful. You can find them here.
Coffee or tea press. My husband uses this everyday. He makes a big batch of his favorite loose leaf tea and sits and reads the paper. They make 2 good sized cups and you can use them for both tea or coffee. Sometimes this beats having a coffee maker and takes up less room. Check it out here.
Lily's Chocolate: Lily's is one of the only chocolate bars that is sweetened with stevia and it's non GMO. Some darker chocolates have less carbs and therefore are a real treat when on a diet. They have many flavors so make sure to check the nutritional information for the net carbs (total carbs – fiber= net carbs). Check them out here.
Lindt Chocolate Bars: Lindt is a brand you can find just about anywhere but what I like about it is that they have a very high cocoa percentage which means it's really dark chocolate. Therefore the carbs are going to be lower. So if you know someone who watches their carb intake and loves chocolate, this is the bar for you. It's not very sweet but if you are a true dark chocolate lover, you will like it. Check it out here.
Macadamia Nuts: Nuts are the bomb. The bad thing about nuts is that it's easy to eat too much but they are good for you and a great low carb snack. Macadamia nuts have the lowest amount of net carbs and are very decadent in my opinion. They are also hard to find but this brand is pretty easy to find so I included it. You can check it out here.
Sugar Free Food Products: I haven't had much luck in this area but I do like Nature's Hollow jams and syrup. They have a few carbs but they do not have that yucky fake food taste that some other brands have. I've only had the preserves and syrup but I can vouch for those. Check them out here.
Torani Sugar Free Syrups: I LOVE these things. I usually have about 10-20 bottles around at all times. I use them in coffee, tea and smoothies. I also make a cool-aid-like drink with apple cider vinegar and splash of one of the fruit flavors. I use them in baking a bit too. They have so many flavors to pick from but my favorites are S'mores, Belgian Cookie, Salted Caramel, Raspberry, Strawberry, Peach, Mango and Black Cherry. Some of them I did not like so much. You can go to their site and buy them for a full range to pick from or you can check some of them out on Amazon.
Powdered Peanut Butter: If you are a peanut butter lover, you will love these powdered peanut butters. They add flavor to you baking or drinks with less calories, fat and carbs. I love it in smoothies or blender ice cream. I also use them in my freezer chocolates. There are many different brands out there now but I feel they are all pretty much the same. Check them out here.
Well I hope you enjoyed these gift ideas for the low carb dieter in your life! Please check out the other gift guides my friends have put together!