Spinach walnut pesto is easy to make all  year round. Here we've used it with spaghetti squash and shrimp but it can also be used with vegetables, pasta, chicken and fish.

I love pesto. I always have since I was younger. I love the garlic and herbs and cheese and oil…..delicious! However I rarely have a lot of fresh basil on hand. In the summer I grow basil so at times I have a lot and make traditional pesto but during the winter I either buy it in a jar or I make this spinach and walnut pesto. I almost always have fresh baby spinach (from Aldi of course) and some kind of raw nuts around. Just toast your nuts and add all your ingredients to a food processor and you have homemade spinach walnut pesto in minutes!
So the only ingredients in this pesto are fresh spinach, fresh garlic, toasted walnuts, olive oil and grated Parmesan or Romano cheese. So easy yet so delicious. And if you are fan of vegetable noodles this is the perfect condiment to go with zoodles, spaghetti squash or any other kind of vegetable noodle. Of course it also would be great with any type of pasta as well as vegetables, chicken or fish.
Today I used my last spaghetti squash from the garden. It was just a tiny one and I was afraid to let it go much longer so I cooked my squash, scraped it with a fork and added it to a saute pan with my pesto and cooked shrimp. You only have to cook it for a few minute and it's done.
Spinach Walnut Pesto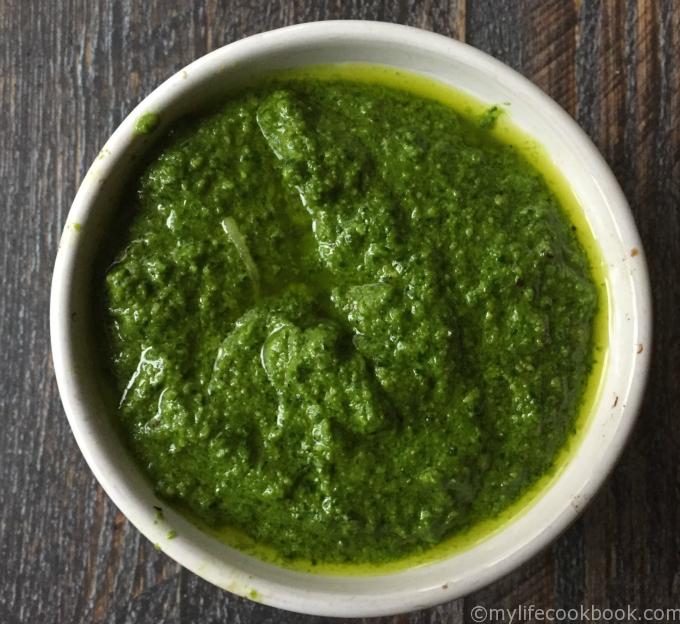 I had a lot of pesto left over and used it throughout the week. I know some people freeze it but I haven't because it's just so easy to throw together. I like to eat it on steamed broccoli and cauliflower for lunch sometimes too.
So this is another easy and quick dinner for you. If you are fan of pesto, you have to try this. You can use different nuts and greens such as arugula and blanched almonds. And a bit of sun dried tomatoes would be a tasty addition. Do you make your own pesto? What do you use for your ingredients? Drop me a line and let me know. Enjoy!
Spaghetti Squash with Spinach Walnut Pesto
Spinach walnut pesto is easy to make and can be made year round. Here we've used it with spaghetti squash and shrimp but can also be used with vegetables, pasta, chicken and fish.
Author:
Denise Wright (MyLifeCookbook.com)
Ingredients
2 cups of baby spinach (loosely packed)
¼ cup of walnuts
¾ cup of olive oil
2 cloves of garlic
½ teaspoon salt
¼ teaspoon pepper
½ cup of Parmesan or Romano cheese (fresh preferably)
12 oz cooked shrimp
½ spaghetti squash cooked and scraped
Instructions
Add your walnut to a dry skillet and toast for a few minutes on medium heat until fragrant. Let cool.
Add your spinach, garlic, salt, pepper, walnuts and cheese to a food processor and blend well.
Slowly add your olive oil as the food processor is working.
Scoop your pesto out into a container.
In a large pan, add your shrimp and spaghetti squash and a few tablespoons of your pesto.
Mix well and sauté for a few minutes so everything is heated through and incorporated.
Serve immediately. Garnish with fresh grated cheese if desired.
Store pesto in an airtight container in the refrigerator.
Can use on vegetables, pasta, rice, chicken, fish or sandwiches.