These savory zucchini waffles are gluten free and low carb. They make a great low carb breakfast or snack and you can even freeze them for later. Only 5 ingredients and 3.1g net carbs per waffle.
More savory low carb waffles to try: pizza waffles and chicken, ham & Swiss waffles.
It's all about zucchini in the summertime. It seems to be the easiest thing to grow and the most prolific. However my husband will only eat it fried and my son will only eat it in the form of zucchini bread (and that's a new development). So I end up eating most of it or trying to sneak it in dishes where they can't see it (meatloaf for instance).
This summer I'm trying to find more things to do with those big green clubs in hopes my family will jump on board and start to like zucchini too. So I came up with these savory zucchini waffles.
Keto Zucchini Waffles Recipe In A Nutshell
Grate the zucchini and onion, then place in a tea towel and wring all the water out.
Mix in egg and cheeses to make the batter.
Add mixture to the waffle iron. Use a small amount to the middle of the waffle iron to make small waffles. Smaller waffles are less likely to stick.
You may need to grease your waffle iron before use. Check your manufacturer's instructions.
Scroll to the bottom for the full recipe card you can print and save for later. 
Zucchini Waffle Ingredients
I'm big on waffles. I don't know why but I love them. However I rarely eat sweet waffles and prefer savory ones. If you too like savory waffles, check out my other waffle posts above.
There are not many ingredients in these zucchini waffles just than zucchini, onion, cheese and eggs. There is no flour so it's gluten free and only take minutes to make.
Let's Make Those Waffles!
The first step is to grate your zucchini and onion either by hand or in a food processor. I used the food processor with the grating blade in it. Put the grated zucchini and onion in a tea towel or a few paper towels and squeeze as much water out as possible. This is important. Make sure you get out as much water as possible.(See below)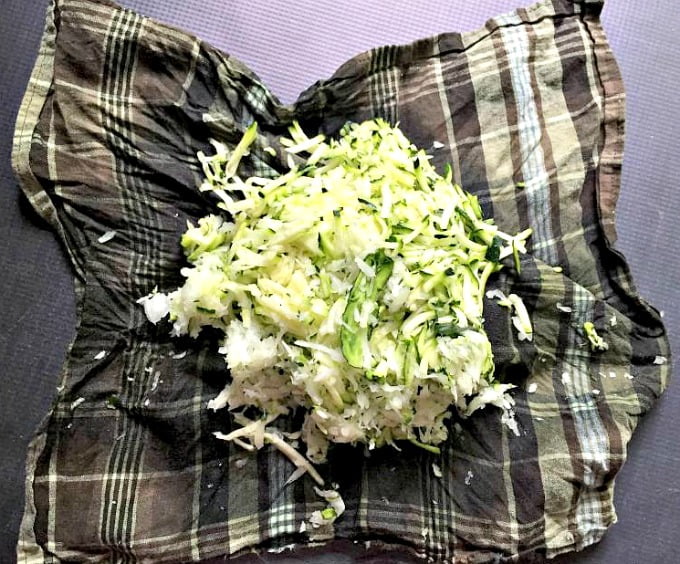 Next you mix in the egg and cheeses and your "batter" should look like this.
Heat up your waffle iron, add a heaping spoonful in the center and cook according to your manufacturer's instructions. Our old waffle iron needed oiling first but our new one doesn't so check to see if you need to oil first. They should only take a few minutes to cook and believe me they are delicious!
TIPS FOR MAKING THESE CHEESE WAFFLES
Make sure you squeeze as much water from the zucchini as you can before making the batter.
Grease your waffle iron first. I use this waffle iron and it doesn't need much greasing but yours might. Check the manufacturers instructions to see. I often use coconut oil or butter after each waffle. You may need to grease after each one.
Only make small waffles. Add the "batter" to the center of the waffle iron and just enough to make a small waffle. Too big and it will be difficult to get out.
Don't substitute the mozzarella cheese. The stringy factor in that cheese is what keeps it together well.
If reheating, only microwave for 30 second intervals until heated through.
This recipe made 4 small waffles so I ate one for lunch and froze the rest and just microwaved one for breakfast everyday. I hope you enjoy this savory zucchini waffle recipe. Especially if you have an abundant zucchini crop like we always do.
How do you use all that zucchini you grow in your garden? Drop me a comment and let me know some of your wonderful ideas! The nutritional information for 1 waffle is:
131 calories / 8.3g fat / 3.7g carbs / 0.6g fiber / 10.4g protein = 3.1g net carbs
Savory Zucchini Waffles (GF, low carb)
These savory zucchini waffles are gluten free and low carb. They make a great low carb breakfast or snack and you can even freeze them for later. Only 5 ingredients and 3.1g net carbs per waffle.
Ingredients
2 cups zucchini grated
½ cup vidalia onion grated
2 eggs
½ cup mozzarella cheese
½ cup grated parmesan cheese
Instructions
Grate your zucchini and onion in a food processor fitted with a grating blade. Or grate by hand.
Take the grated mixture and put in a tea towel or a few layered paper towels and ring out as much water as possible.
In a mixing bowl, beat eggs with a fork and add cheese and zucchini mixture. Mix well.
Add a heaping spoonful to your prepared waffle iron and cook according to your manufacturer's instructions. Some waffle irons require you oil them. Ours did not so check to see if you need to do that first so they don't stick.
Eat immediately or freeze for later. To eat from frozen just microwave for 30 seconds to 1 minute.
Enjoy!
Notes
Recommended Products
As an Amazon Associate and member of other affiliate programs, I earn from qualifying purchases.
Nutrition Information:
Yield:

4
Serving Size:

1 Servings
Amount Per Serving:
Calories:

131
* The Paleo diet does not include dairy products and I do in many of my recipes. I tend to follow a modified Paleo / Primal /Low Carb diet and use the principles of all three. Dairy is a high protein food group with plenty of nutrition that I feel is valuable in our families' diet not to mention that it tastes great. Here is an interesting article about full fat dairy products from Mark Sisson who started the whole Primal movement. So if you can not tolerate dairy products or you are a strict Paleo enthusiast, my apologies. Going forward I will be more cautious with how I label my recipes.
---