Print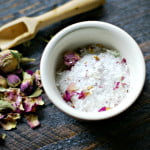 Lemongrass, Ginger and Rose Bath Salts
This is very simple to make and is a lovely gift for Mother's Day, Teacher's Appreciation or just enjoy it yourself (that's what I did).
Mix the epsom salts and baking soda (if using, see note) together.

Add your essential oils and mix well.

Lastly add the rose petals. Crush if they are too big.

Store in a glass jar.

Add a handful to your next bath, relax and enjoy!

*note* A reader in the comments pointed out that there are people experiencing exploding jars because of the reaction of baking soda and essential oils. I have not had that problem but since it's a possibility please omit the baking soda or add it separately to your bath.