Print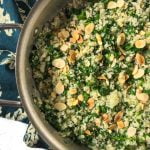 Spinach & Herb Cauliflower Rice Pilaf
This Spinach & Herb Cauliflower Rice Pilaf takes only about 15 minutes to make and is full of healthy flavor while low in calories and carbs. A tasty Paleo dish!
In a large saute pan, add your olive oil and garlic and sauté for 1 minute.

Add your riced cauliflower and salt and pepper to taste.

Mix well and let cook for 3 or 4 minutes.

Add butter and mix until melted. Continue to cook for 2 more minutes.

Taste your cauliflower to see if it is done enough. If so, turn off the heat and add basil and spinach.

Toss until wilted.

Sprinkle almonds on top and serve.