Print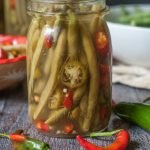 Spicy Pickled Green Beans (low carb)
These spicy pickled green beans are my new obsession. Crunchy refrigerated pickled green beans that are both spicy and sweet and best of all, a nice low carb snack.
3

cups

of water

3

cups

of white vinegar

¾

cup

of Splenda sweetener

¼

cup

of salt

4

cloves

of garlic - crushed

2

teaspoons

of oregano

1

teaspoon

of coriander seeds

1 ½

lb

of green beans, cleaned and trimmed*

4

fresh jalapeños, sliced

4

fresh cayenne peppers, sliced
In a large sauce pan, add all the ingredients except the vegetables and bring to a boil.

Divide green beans and peppers evenly among your jars.

Pour pickling liquid over the vegetables and let cool.

Cover and place in the refrigerator over night.

Enjoy!

*Note: this pickling recipe will make roughly 5 pint jars of spicy pickled green beans. It will depend upon how many beans you put in your jars.

Serving size is roughly 10 green beans.
The nutritional information is approximate because it will be dependent on how many green beans you use and how many jars (I used 5 jars). But the nutrition for about ¼ of a pint jar which is roughly 10 green beans is: 
17 cals / 0.1g fat / 2.7g carbs / 0.8g fiber / 0.5g protein = 1.9g net carbs