Print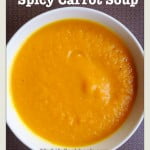 Spicy Carrot Soup
A spicy vegetable soup that is healthy, hearty and delicious.
Add coconut oil, onions, carrots and sweet potato to a pot and sauté for about 5 minutes.

Add remaining ingredients bring to a boil, then lower to a simmer and cover for 10 - 15 minutes. When the carrots and sweet potato are soft it is done.

Blend in a high speed blender then put back in the pot. Add coconut milk or cream coconut to pan and mix well and serve.

As mentioned above I made this with the cream coconut because I did not have the coconut milk on hand but I think it would be better than the cream coconut. I also used a teaspoon of chicken base such as Better than Bouillon because I like the added flavor but it is not necessary.