Print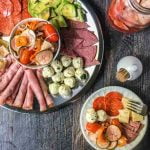 Refrigerated Pickled Ratatouille Vegetables
These refrigerator pickled ratatouille vegetables are great for relish trays, sandwiches or just eating out of the jar. A great summer snack to make with vegetables from your garden!
4

cups

of raw vegetables

I used thinly sliced eggplant, zucchini, grape tomatoes, red onions and bell peppers

My Tangy Pickling Recipe

1

cup

of vinegar

I used red wine, but white or apple cider vinegar would work

1

cup

of water

1/2

teaspoon

of Italian seasonings

1

tablespoon

of salt

1

teaspoon

fo garlic

crushed

hot pepper flakes

just a pinch

1

teaspoon

of sugar

Rick's Sweeter Pickling Recipe

1

cups

of water

1

cups

of white vinegar

1/4

cup

of white sugar

1/4

cup

of salt

2

cloves

of garlic – crushed

1/2

teaspoons

of oregano

1/2

teaspoon

of coriander seeds
My Pickling Recipe Instructions

In a sauce pan, add the vinegar, water, seasonings, garlic, hot pepper flakes, sugar and salt.

Mix until the salt and sugar dissolve and it's just about to boil.

Take off the stove.

Using a toothpick, poke holes into all of the tomatoes. (tThis will allow the pickling juice to penetrate.)

Add all of your vegetables into a quart sized jar.

Pour over the warm pickling juice and let sit and cool a bit.

Add your lid and refrigerate for a day or two.

Rick's Pickling Instruction

Add all the ingredients to the pan except the vegetables and bring to a simmer.

Mix well and pour over the vegetables in the jar.

Let cool and then store in the refrigerator.