This spicy chicken soup uses a special ingredient – tea! it's FULL of flavor and very easy to make, not to mention low carb and paleo. Perfect for a cold winter day.
I got this crazy, wonderful idea from my friend Debbie. She sells Steeped Tea of which I am a big fan and now I sell it too! Anyway, one day she posted that she made chicken soup with Immunity Booster tea. I had run out of that particular one and used my Hot Yoga tea instead and I was hooked! It added sooo much flavor that I want to make my soup like this all the time.
Adding Tea To Bone Broth
I haven't done it yet, but I want to make a big batch of bone broth and add this to it. Then I want to sip it all day. I think it will help keep my hunger at bay and it will be good for me because bone broth has lots of healthy properties. But most importantly it will be satisfying. UPDATE: I do this all the time now. I add the Hot Yoga tea to my wedding soup or just to the bone broth.
Steeped Teas That I Used
Below you can see the Hot Yoga tea I'm talking about. I haven't tried the Immunity Booster tea yet in my soup but I plan to, especially if I get a cold this winter. The Hot Yoga is the one I that I use all the time now. The ingredients are: cinnamon bits, ginger, hawthorn leaves, cardamom, cardamom peels, cloves, black pepper, cardamom powder, safflowers, mallow blossoms.
If You Don't Have These Teas
If you are interested in either of these teas, here is a link to it. However, if you don't, you could experiment with different seasonings to get the right taste. In particular I can taste the ginger, pepper, cardamon and cassia (which is a type of cinnamon). So I think you could substitute some ginger, black pepper, cinnamon and cardamon and it would do the trick. Those are common ingredients in chai tea too so if you have any of that at home, give it a try.
Tips For This Tea Soup Recipe
I didn't mind having the bits of tea floating around in the bowl but if you do, you could put it in a muslin bag and take it out when you are ready serve it. However I don't think you would get as much flavor though. I used zucchini noodles because I'm a huge fan these days, since I got my newest spiralizer. The rest of the soup consists of bone broth, carrots, celery, onions and chicken.
Spicy Chicken Soup Recipe
This recipe is an easy one. I basically sautéed the vegetables (except the zucchini noodles), added the broth, tea and spices and let that simmer for a while. Then I added the cooked chicken and zucchini noodles. Let that cook for a few minutes and it was ready to eat.
Believe me you will be surprised at how much flavor this tea brings to the broth. I want to experiment will other teas too, but will probably stick to herbal teas as I don't need the caffeine. Well I hope you get a chance to try this out.
And if you can't get any Hot Yoga Tea, experiment with the above mentioned spices and let me know how it goes. Enjoy! Scroll down for nutrition label.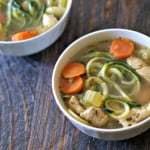 Spicy Chicken Soup Using Tea
This spicy chicken soup uses a special ingredient - tea! it's FULL of flavor and very easy to make, not to mention low carb and paleo. Perfect for a cold winter day.
Ingredients
1

Tablespoon

of olive oil

8

cups

chicken broth

bone broth if you have it

1

teaspoon

crushed garlic

2

cups

chicken breast

cooked and chopped

½

cup

onion

chopped

1

cup

carrots chopped

1

cup

celery chopped

1

medium zucchini spiraled

2

Tablespoons

Hot Yoga Tea

or experiment with cinnamon, black pepper, ginger and cardamon

½

teaspoon

salt

½

teaspoon

pepper
Instructions
In a large soup pot, add olive oil, carrots, celery and onion.

Saute for a minute or two until the onions become translucent.

Add your broth, tea, salt, pepper and garlic and simmer for 5-10 minutes to cook the vegetables and get more flavor from the tea.

Add in your cooked chicken and zucchini noodles.

Cook for a couple more minutes until the zucchini gets tender.

Serve and eat!
Add this recipe to your Mix!