These creamy keto burgers with mushroom sauce makes for a delicious low carb skillet dinner you can have any night of the week. The creamy gruyere sauce is rich and packed with flavor. Each burger has only 3.7g net carbs per serving.
You might also like these low carb stuffed pizza burgers recipe.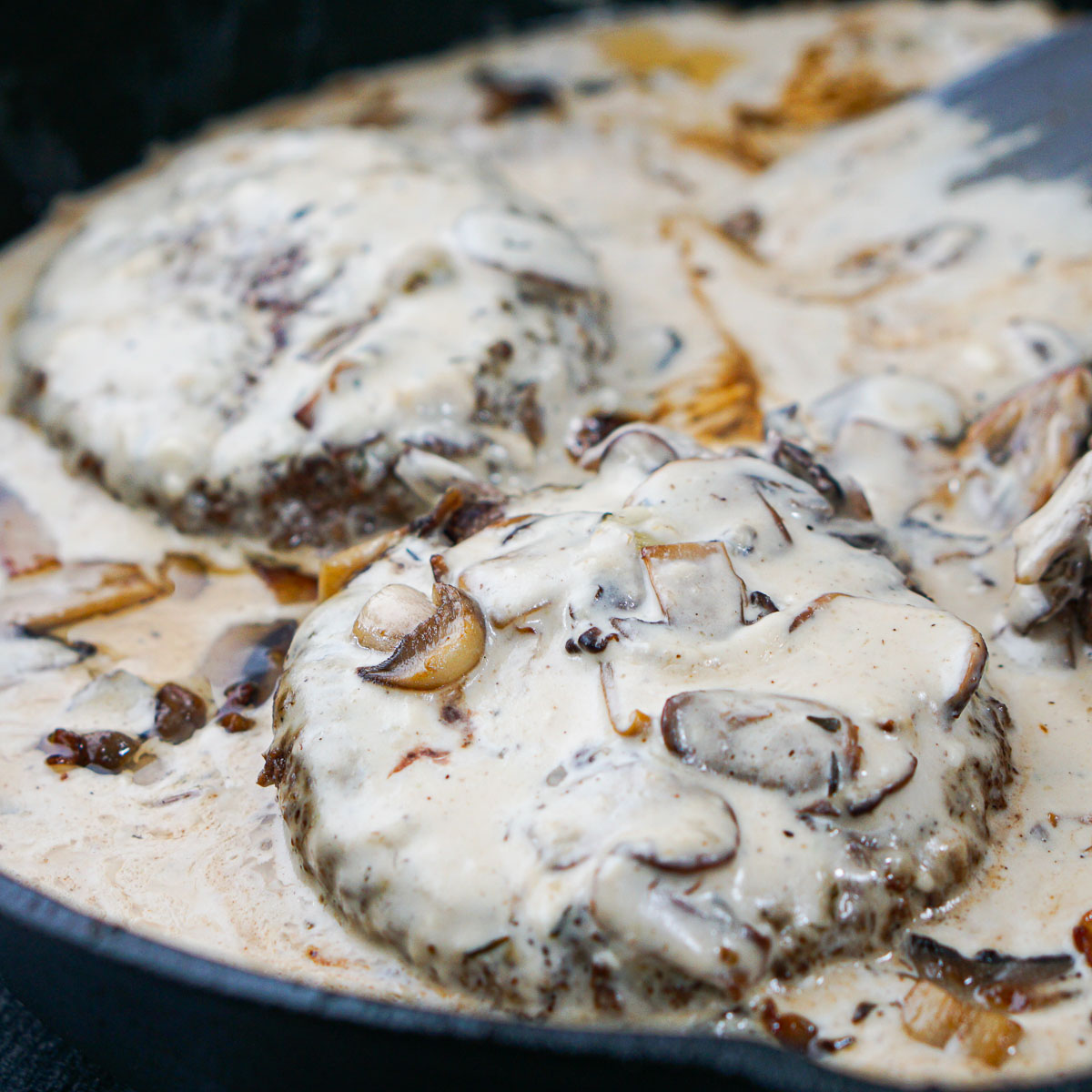 When I first got married, one of my husband's recipes was for hamburgers with cream of mushroom soup. It was super easy and tasty, but nothing fancy.
This creamy keto burgers with mushroom sauce recipe is a combination of that recipe and my creamy chicken with spinach & mushrooms recipe. Both of which I knew my husband really liked.
This dish is very easy to make and it's a nice way to dress up hamburger. I also like it because it's low carb of course. The creamy gruyere sauce is really rich and flavorful and with the sautéed mushrooms makes a great combination with the burgers.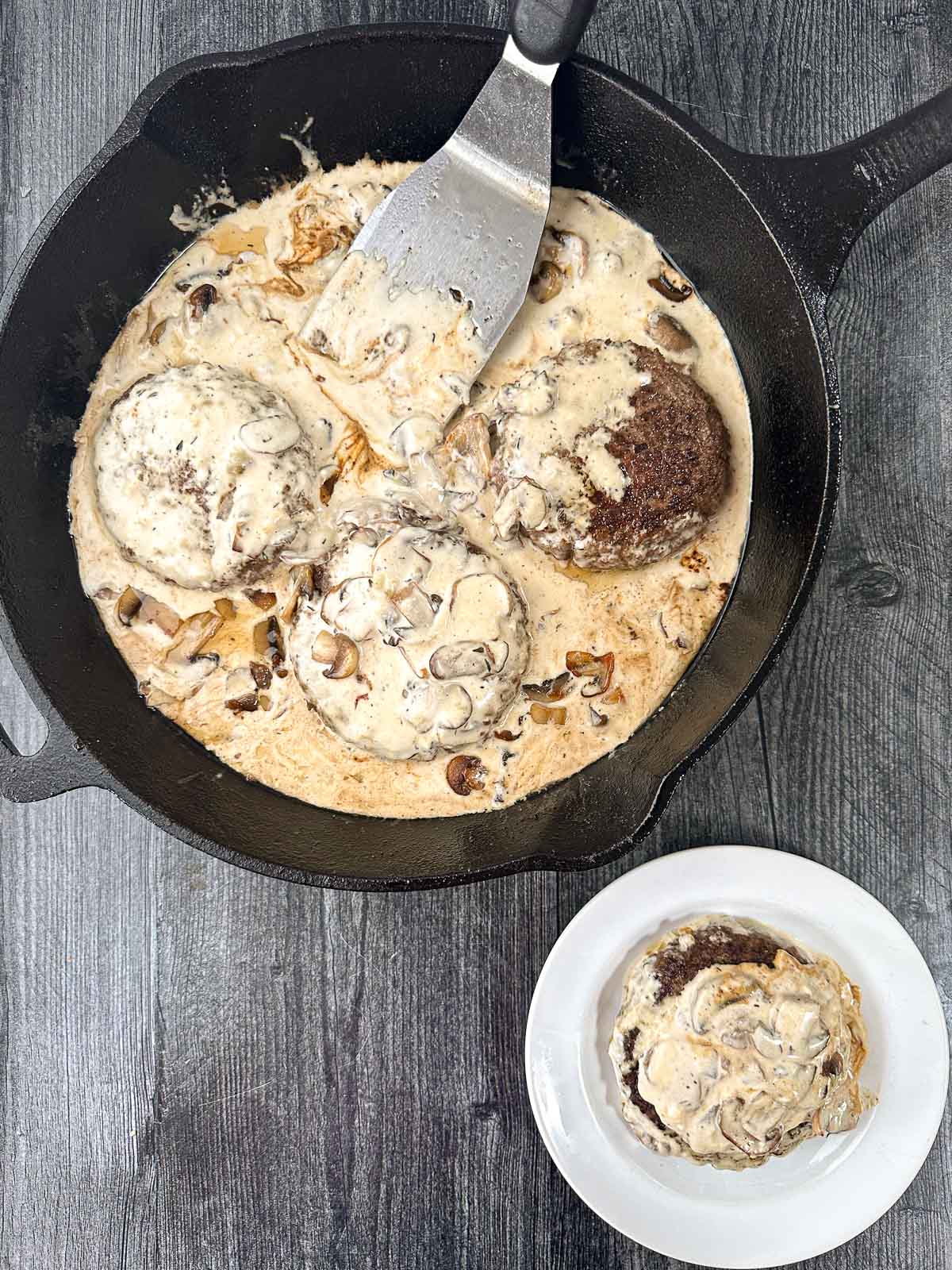 An update to the gruyere mushroom sauce.
I just made this again today and I added a half cup of water to thin the sauce. You could also use beef broth if you want. Let me tell you this gruyere mushroom sauce is SO rich and tasty so a little broth or stock will not take away from the flavor.
The real reason I came up with this recipe is that I bought a surplus of Costco preshaped hamburgers the other day. I intended to cut them in half and freeze them for a quick low carb burger salad.
Unfortunately I forgot I bought them and I had to use them all in one day. So I made a few regular burgers and used 4 for this recipe. Boy I wish I had made more. My husband took the extras to work the next day so there were no leftovers for me.
Recipe ingredients I used.
You just need a few simple ingredients to make this dish. I use ground beef, fresh white mushrooms, butter, heavy cream, shredded gruyere cheese, sour cream, cream cheese, beef stock or broth, fresh garlic cloves, thyme, onion powder, salt and black pepper.
Gruyere has a mildly nutty and earthy flavor and is creamy in texture. They sell it at Aldi regular and that is where I buy mine. If you want to substitute you can try with Swiss or gouda cheeses. (learn more)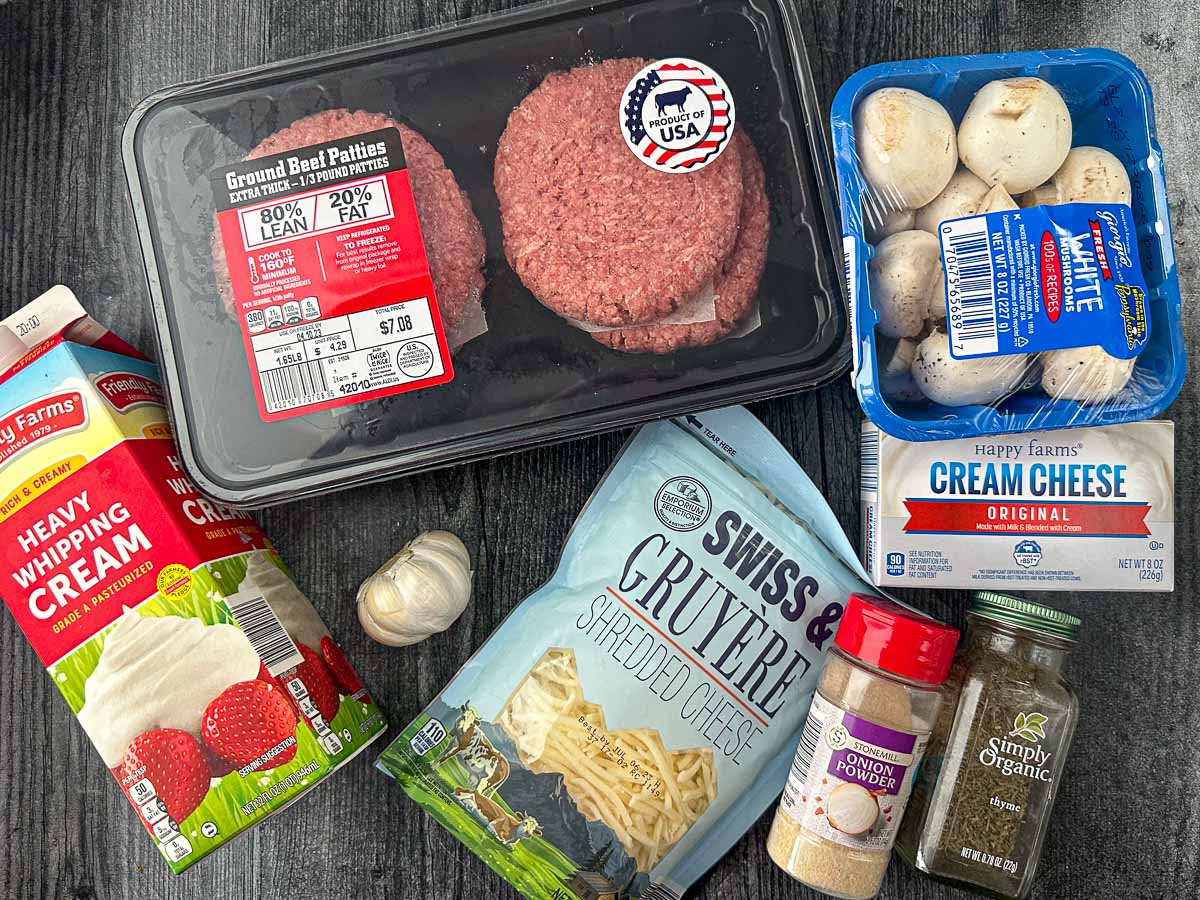 How to make creamy keto burgers with mushroom sauce.
I used preformed burgers from Aldi and they were 80% ground beef. This would have been easier if I had used leaner beef because of the excess grease. Also I had 2 skillets going at the same time.
Step 1: Heat up a cast iron skillet to medium high heat. Placed the burgers in the hot skillet, turned the down heat to medium heat and flipped them in about 5-7 minutes and continue to cook patties for 5 – 7 minutes on that side.
When done drain off the excess grease. If you use lean ground beef you may not have that problem.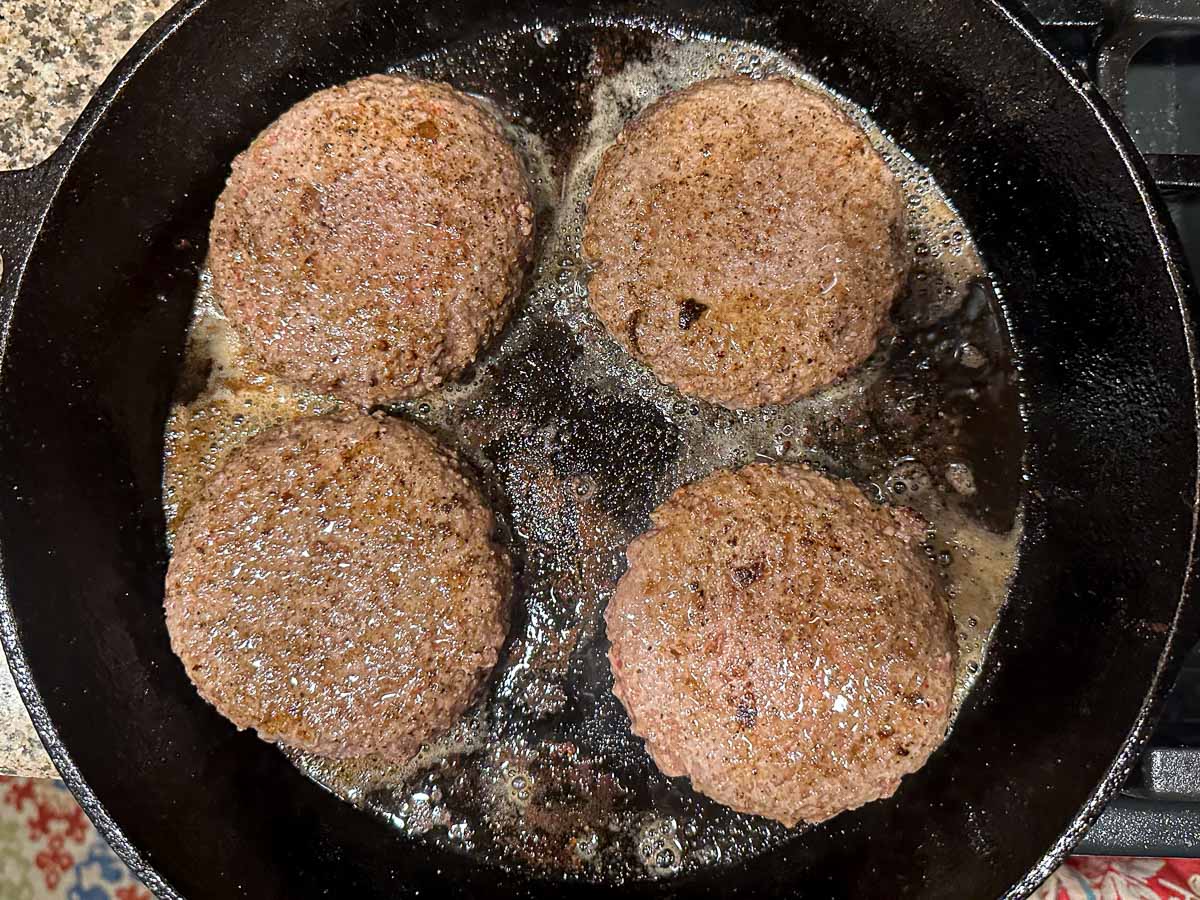 Step 2: Meanwhile heat up a medium size skillet to medium high heat and add the butter. Once it's melted, add the sliced mushrooms, turn the heat down to medium heat and saute until golden brown.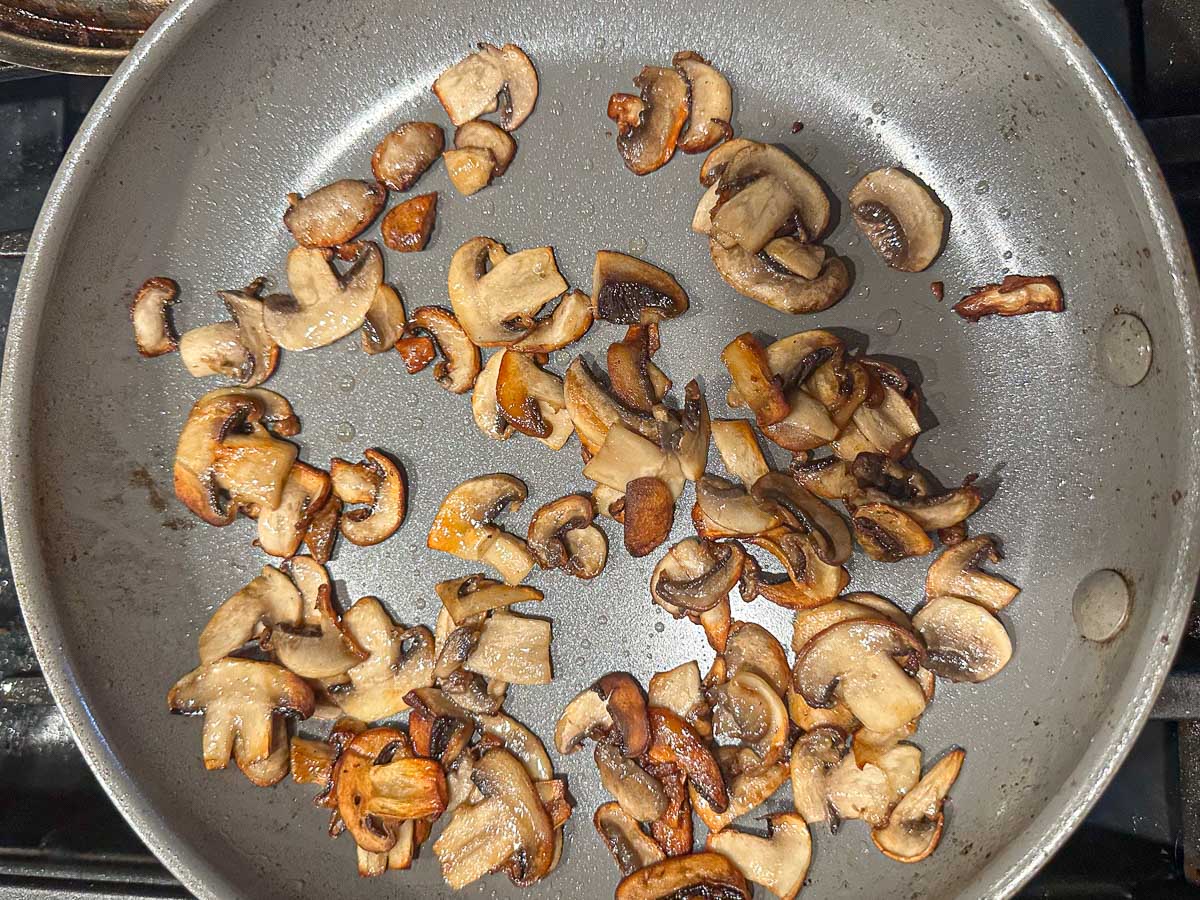 Step 3: Once they are nice and brown, add the cream cheese, heavy cream and spices and mix well until the creamy cheese melts.
Step 4: Next add the sour cream and water (or broth) and mix until well incorporated and has thinned out the sauce a bit.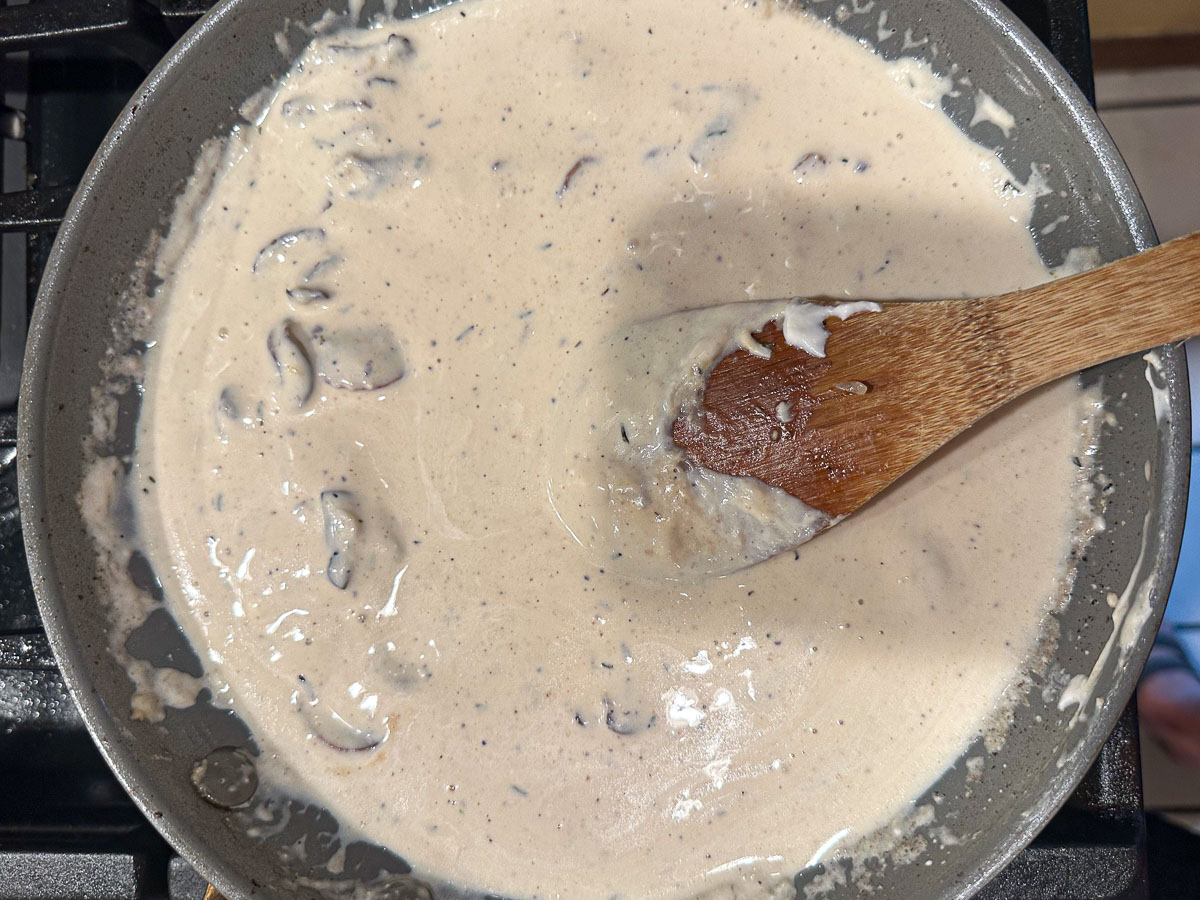 Step 5: Then when the burgers were done and ready to serve, I poured the gruyere sauce over the burgers.
Let the burgers rest for a couple of minutes to cool down and then serve them from the pan. Store leftovers in an airtight container. Please scroll down to view the printable recipe card.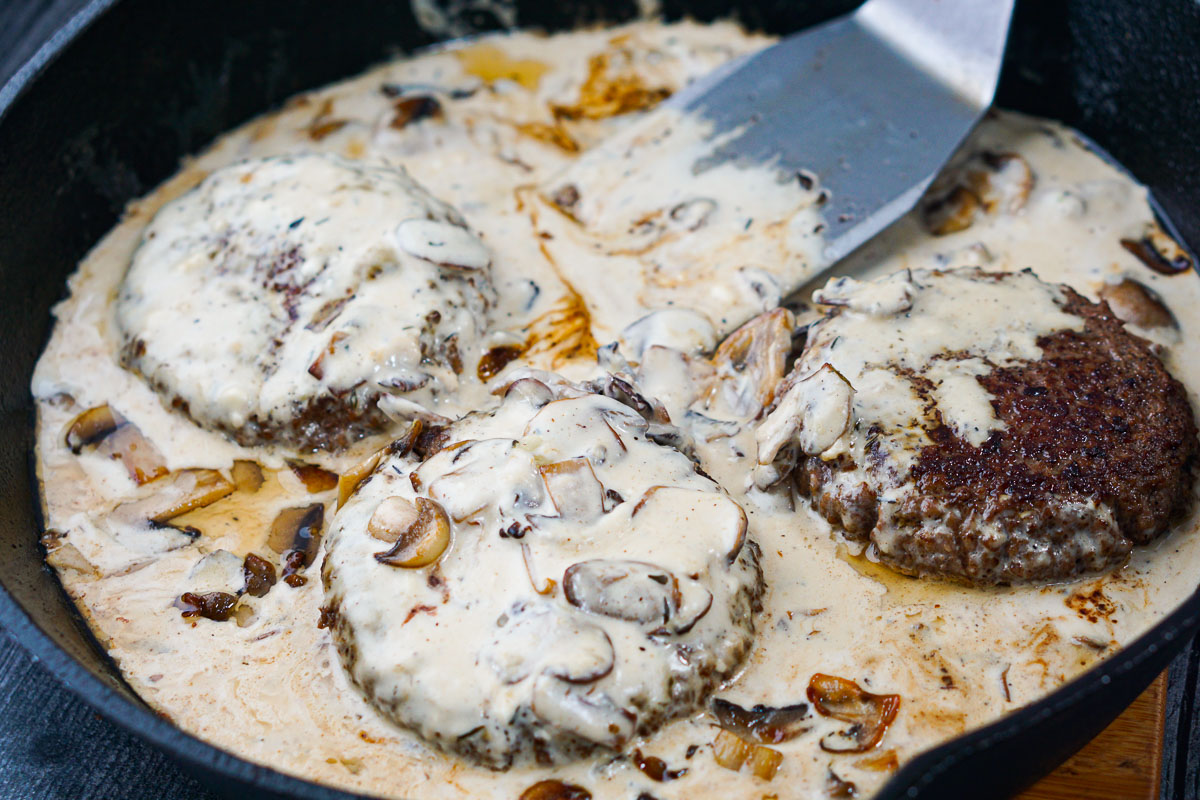 The original sauce is pretty thick so I ended up thinning it with water. You can also use beef broth or stock or just use it as is.
If you don't have gruyere you can use swiss cheese instead.
If you are using higher fat burgers you will want to drain the grease before pouring the sauce over.
What to serve with this recipe.
If you are on a low carb diet, you can eat this dish as is with a steamed vegetable and green salad. Or you can eat it over cauliflower rice which will go great with the rich sauce.
If you are not on a low carb diet, try it with some buttered egg noodles or regular white rice.
I really liked this dish because it was very satiating. One burger and a nice simple green salad is what we had for dinner. This sauce had awesome flavor and would also be great with a steak so maybe I'll try that next time. Enjoy
So the nutrition for 1 burger is: 610 cals / 49.3g fat / 4.2g carbs / 0.5g fiber / 36.5g protein = 3.7g net carbs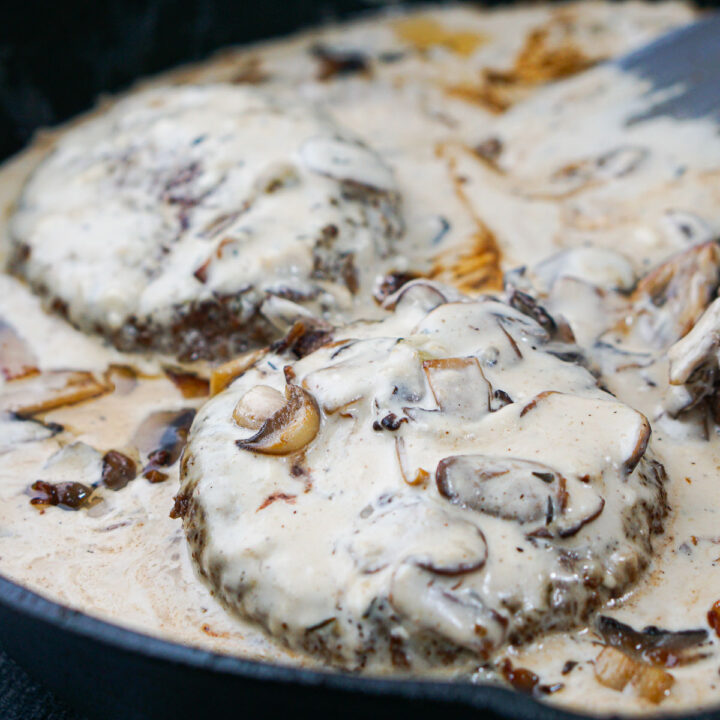 Creamy Keto Burgers with Mushroom Sauce
These keto burgers and gruyere mushroom sauce is a delicious low carb dinner you can have any day of the week. Only 3.7g net carbs per huge serving.
Ingredients
1 pounds ground beef patties
2 tablespoons butter
2 cups sliced fresh mushrooms
2 ounces cream cheese
½ cup heavy cream
¼ cup sour cream
1 teaspoon garlic, crushed (2 cloves)
½ cup gruyere cheese, shredded
¼ teaspoon dried thyme
1 teaspoon onion powder
¼ teaspoon salt
⅛ teaspoon black pepper
½ cup water or beef broth
Instructions
Shape your ground beef into burgers. I made 4 large ones.
Get the burgers going by heating a cast iron skillet to medium high heat. Then add the burgers to the hot skillet. Turn the heat down to medium and let them cook undisturbed for about 5 to 7 minutes. Flip them over and cook for another 5-7 minutes. Note cooking time may vary depending on how big you hamburgers are.
When burgers are done, drain as much excess grease as you can. If you use leaner beef patties you will of course have less grease.
Meanwhile to make the creamy mushroom sauce get a medium nonstick skillet heated to medium high heat. Add the butter and when it has melted add the mushroom slices. Turn the heat down to medium and saute until they are golden brown. When the mushrooms are just about done, add the garlic.
Next add the cream cheese, cream, onion powder, thyme, salt and pepper to the mushrooms. Once the cream cheese is melted, add the gruyere and mix well until melted.
Lastly add the sour cream and water or broth and mix well to combine. Pour the mushroom sauce over the burgers once they are cooked and serve.
Notes
The sauce is pretty thick but you can thin it with more heavy cream or a little beef broth if you have it.
You can substitute swiss cheese if you don't have gruyere.
If you are using high fat burgers you might want to drain the grease before pouring the sauce over. 
So the nutrition for 1 burger is: 610 cals / 49.3g fat / 4.2g carbs / 0.5g fiber / 36.5g protein = 3.7g net carbs
Nutrition Information:
Yield:

4
Serving Size:

1
Amount Per Serving:
Calories:

610
Unsaturated Fat:

0g