This is a list of some of my favorite low carb cooking things and they are all under $50! You are sure to find something to give a low carb foodie or maybe even something for yourself. 
I know it's tough, finding that perfect holiday gift for your friends or loved ones. You want to get them something that they truly will enjoy, but you are at a loss of what that gift could be. That's why I compiled this list of Great Gift Ideas for the Low Carb Foodie in your life!
Shopping for people can be hard, I get it. All of these items are perfect for any person who enjoys cooking or baking, and follows Paleo, Low Carb or Keto way of eating.
First Let Me Say …

All of these items are under $50 and most are under $25.
I did add in my air fryer at the end because I really like it
and know quite a few people who where giving
them as gifts this year.
Also I didn't include the prices as Amazon often changes
them especially at the holidays. But these are all products
I own and really use a lot in my low carb cooking.


---
Perfect for Paleo, low carb, raw food diets and more. Create spiral cuts and vegetable or fruit noodles in seconds, and it's easy to use, easy to clean! Comes with 6 different blades.
Veggie noodles are great. You would be surprised how the different shapes of noodles make them taste different. Learn more about all the different kinds of veggie noodles and recipes here.
---
Create delicious cocktails, smoothies, coffeehouse favorites and more! Being sugar free, you don't feel guilty about the calories! This holiday variety pack is the perfect way to introduce these delicious and versatile syrups to someone who loves making homemade drinks.
I use Torani Syrups A LOT because there are so many keto recipes you can make with them.
Check out this post about 14 Low Carb recipes using Torani sugar free syrups. There is everything from salted caramel cream coffee to raspberry no bake cheesecake and tiramisu gelatin – all keto and sugar free. And here are all of my Torani recipes.
---
This is by far my favorite waffle maker for Chaffles or keto cheese waffles. It has a non-stick ceramic coating on the surface to keep them from sticking and it's easy to clean.
Here are all of my low carb waffle recipes to inspire you!
---
The Mini-Prep Plus 24 Ounce Processor is the perfect little helper for small food preparation, from chopping herbs to finely grinding hard cheese.
I use this for any recipe that needs chopped or ground nuts. I love it for any kind of protein bites or low carb fat bombs. So much easier thank dragging out my full size food processor.
---
Turn any sheet pan into a non-stick surface, eliminating oils, grease and sprays. Easy to clean, and works with all types of foods.
I use these A LOT when baking keto cookies or low carb pizza. They are super easy to clean and nothing sticks to them. A great alternative to parchment paper.
---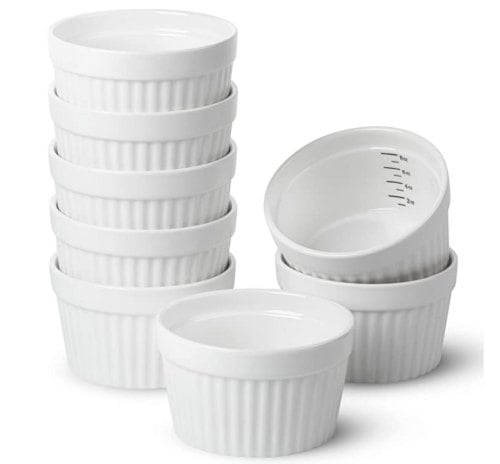 ---
Silicone molds are perfect for baking, making candy, or even making soap! Easy to clean, nonstick and durable. Can be used in the oven, microwave, dishwasher and refrigerator.
These are great for fat bombs or making your own sugar free chocolate candy. They are so easy to use because the flexible silicone, the candy pops right out. And they are very pretty looking when done.
---
Treat someone to 100% unsweetened Cocoa Powder! Deliciously rich Fairtrade cocoa grown by family farmers in Ghana. No artificial flavors, and 100% pure cocoa butter. No GMO's and Vegan. Perfect for any chocolate lover on your list.
This is my go to cocoa powder because it's very low in carbs and tasty delicious in recipes. Try it to make my keto hot chocolate mix.
---
Swerve is a natural sugar replacement that doesn't have the bitter aftertaste. Any low carb or keto diet follower would love this as a gift! Pair it up with the Divine Cocoa Powder listed above.
Swerve is my favorite sweetener to bake with. I primarily use the confectioners lately but I also love their brown sugar sweetener. It really has that brown sugar flavor with 0 net carbs! I love it in cookie dough recipes and these candied pecans.
---
Cookbooks A Low Carb Foodie Will Love!
I know e-books are the thing these days in our electronic world, but I still love getting hard back books, especially cookbooks!
Here are a few of my favorite cookbooks that feature Low Carb Or Keto recipes. I've gotten to know these ladies over the years and love their recipes.
The Wholesome Yum Easy Keto Cookbook by Maya Krampf.
Low Carb Yum 5-ingredient Keto: 120+ Easy Recipes by Lisa MarcAurele
The Ultimate Guide to Keto Baking: Master All the Best Trucks for Low-Carb Baking Success by Carolyn Ketchum
---
Not Under $50 But Worth Mentioning…
Below is the air fryer I use. It is more than $50 but it's a really cool device. I use it for making apple chips, rotisserie chicken pieces, keto cheesecakes, crispy chicken strips and more. I just wanted to include it because I think anyone would enjoy this as a gift or maybe even treat yourself.
Air Fryers are very popular in Keto cooking and I think the Low Carb Foodie in your life would love it.
This particular air fryer allows you to fry, bake, grill, and roast with little to no oil. It's great for making crispy fried food but I've even made a cheesecake in it.
This air fryer has a rotisserie function which is cool and you can use it as a dehydrator. One of the best countertop appliances I've ever owned so I thought I would include it in this low carb gift guide!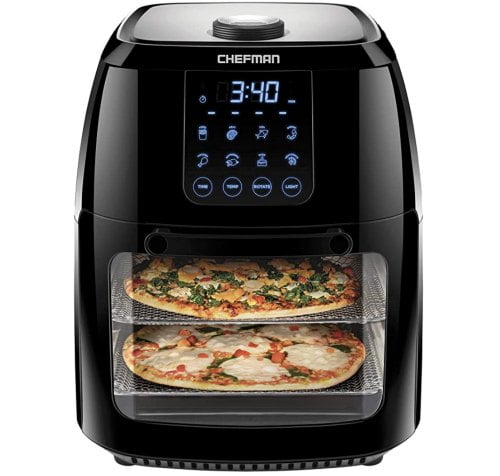 ---
I hope my list helped you out a bit, and you found the perfect idea for the Low Carb Foodie on your list. Everything listed here can be ordered on my Amazon Store Front so that could also be helpful this year with social distancing of the holidays.