A great low carb lunch from your freezer – Mexican cauliflower rice. Make in one pan and freeze for later. Easy, healthy and tasty low carb lunch.
I'm getting serious this summer about staying on track with my diet and maximizing my time with my family. For me all it takes is a little planning and some batching cooking. I was in the mood for some taco meat and decided to make a Mexican cauliflower rice dish. I made a big pan and stored portions of it in the freezer for those busy days in summer. Sometimes it's so easy to grab fast food or head out to lunch at a nice restaurant but I want to save time, money and stick to my diet and this is the way I do it.
Cauliflower rice has been a big help to me in my diet. I have another post about Paleo freezer meals and this is similar to one of those recipes. I am a big rice eater and while cauliflower rice is not quite the same, it is an excellent substitute in dishes like this. It's filling, healthy and it takes on the taste of whatever you cook it with so all these Mexican spices and meat really flavor the cauliflower rice.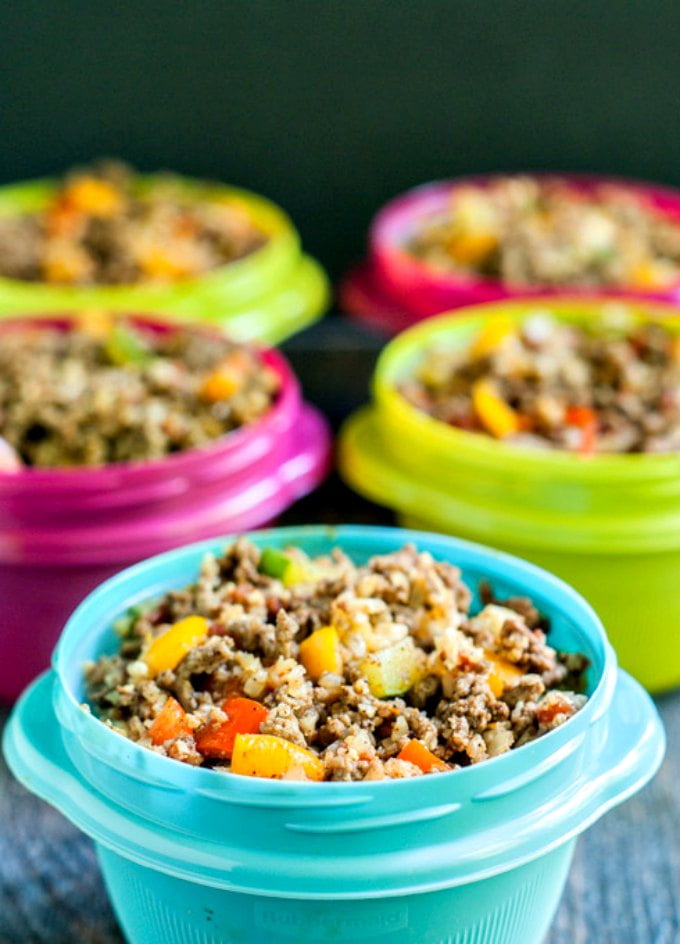 I wanted to add more cauliflower rice but with the other veggies, it was adding more carbs. So this dish is about 50/50 meat to veggies. To make this dish you simple brown a lean ground beef with all the spices and then add in your veggies. Save the cauliflower for last so it's a bit chewy like rice. Then when it's done and cooled a bit, divide it into 5 portions and freeze. To eat, just heat it up in the microwave for about 5 minutes. Add some cheese or cilantro or even avocado on top and you are ready to go!
Mexican Cauliflower Rice
I bought these cute containers at Dollar General but you can also find them here. They are Rubbermaid containers and I like them because they have a tray insert that you can use too. I think that will come in handy for veggies and dip or snacks like that. Well I hope you like this easy low carb freezable lunch. The nutritional information for 1 serving is:
197 cals / 7.7g fat / 8g carbs / 2.9g fiber / 20.3g protein – 5.1g net carbs
You might also like my friend Jessica's dirty rice and ground beef recipe!
Freezer Low Carb Lunch Mexican Cauliflower Rice
A great low carb lunch from your freezer - Mexican cauliflower rice. Make in one pan and freeze for later. Easy, healthy and tasty low carb lunch.
Ingredients
1

lb

lean ground beef

2

teaspoons

chili powder

1

teaspoon

cumin

1

teaspoon

onion powder

½

teaspoon

pepper

1

teaspoon

salt

1

teaspoon

garlic powder

2

cups

of cauliflower rice

10

oz

can of diced tomatoes with chiles

1

cup

of diced zucchini

1

cup

chopped bell peppers
Instructions
Spray a large saute pan with spray and add your meat, tomatoes and spices.

As the meat begins to brown, add in your veggies except for the cauliflower.

Cover and cook on medium heat for 5 minutes.

Add in the cauliflower, mix well and cover and cook for 5 more minutes.

When done, set aside to cool for a few minutes before putting into containers.

Freeze until ready to eat. Pop into a microwave to cook when you are ready to eat them!
THIS POST MAY CONTAIN AFFILIATE LINKS. FOR MORE INFO PLEASE VISIT OUR POLICIES PAGE.
---
More healthy lunches you can freeze!