This easy apple & cheese flatbread pizza recipe makes for a delicious dinner or fall appetizer. Using seasonal apples and tasty gouda and asiago cheeses you can make these flatbreads in minutes. Great for a busy weeknight meal or for a fall party too!
You might also like this Asiago sausage flatbread pizza recipe!
Lately I've been remaking old recipes and posts and I forgot how good they were. Today I'm remaking this easy apple and cheese flatbread pizza using naan bread and other tasty ingredients.
Using naan bread is a simple way to create flatbreads that you can eat for a quick dinner. And these flatbread pizzas make great appetizers. Just cut in smaller pizza and use tasty toppings.
Today's naan pizzas combine sweet crisp apples, tangy cheese, baby spinach and the bite of red onion. No need to make your own dough when naan bread makes the perfect flatbread base!
Recipe ingredients I used.
Below you can see the simple ingredients I used for these flatbread pizzas – naan bread, olive oil, gouda cheese, asiago cheese, baby spinach, red onion and sweet apple. I bought everything from Aldi so if you have one nearby you can get everything.
Note that originally I used peppery arugula for this recipe but I had a hard time finding it and the spinach was a good substitute. However if you have any fresh baby arugula try that for an added layer of flavor.
As for the other ingredients you can play around with other cheeses but I really liked these two and originally I had found chopped prosciutto ham at Aldi and all I could find this time was the thin slices but they were fine. You can use bacon in a pinch or even regular diced ham.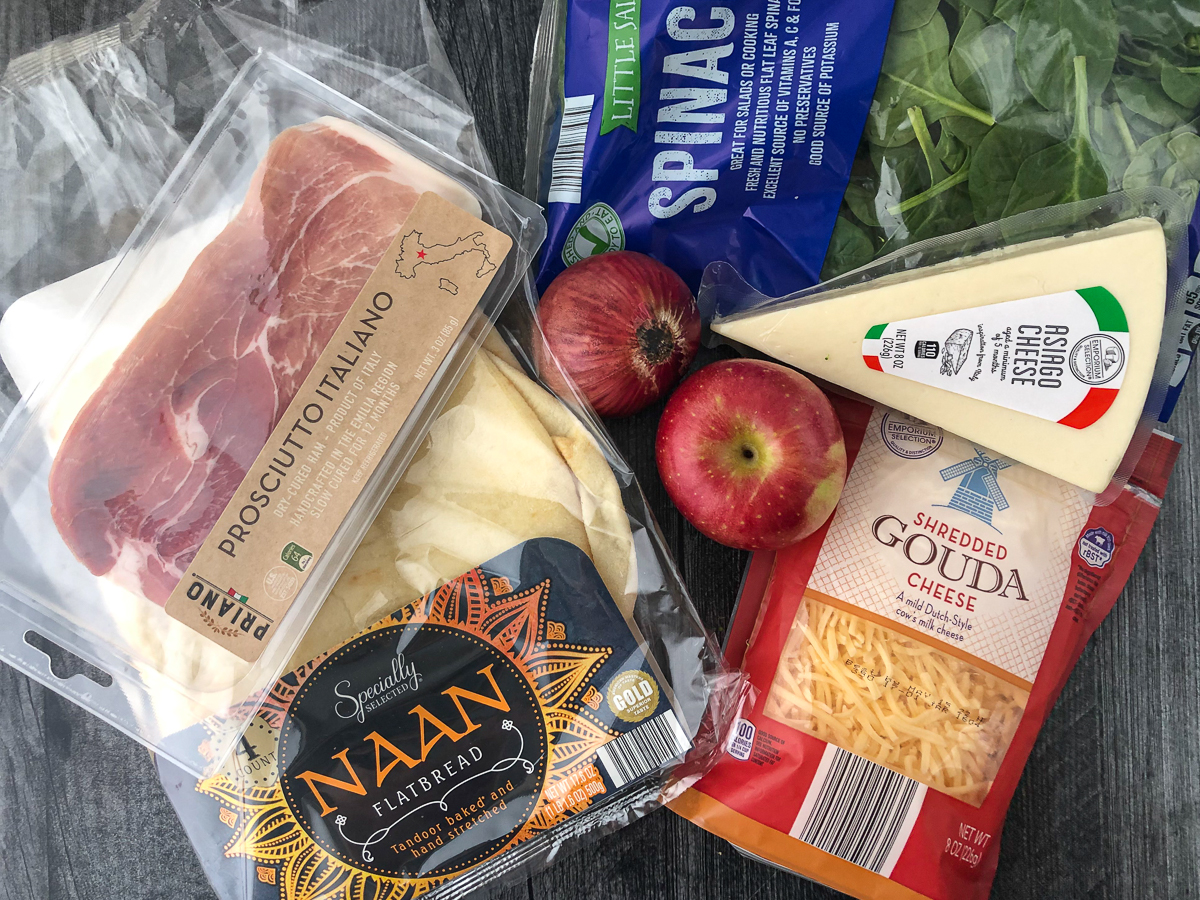 I made two kinds of flatbreads today. Below the one on the right has asiago cheese, apples, prosciutto and red onion. The flatbread on the left has Gouda cheese, apples and red onion.
Both were delicious to me. My hubby liked the asiago and I liked the gouda. Gouda is creamy and melty while asiago cheese is sharper and had more bite. Both worked well with the sweetness of the apples and naan bread makes the best flatbread base or pizza crust.
How to make this easy apple and cheese flatbread pizza.
Preheat the oven to 350°F and spray a baking tray with nonstick cooking spray.
Lay naan bread on a prepared baking sheet. Brush olive oil over the entire surface of the bread.
Chop the spinach and add to make a layer on the naan.
Next sprinkle gouda cheese on one flatbread and asiago on the other.
Thinly slice the apple and lay those in a single layer over the cheese and then add more cheese over the apple layer.
Lastly thinly slice the red onion and place a few on top of the cheese and then sprinkle the chopped prosciutto ham. You could season with salt and black pepper but with the ham and cheese I think it provides enough salt. Also you can add a sprinkling of hot pepper flakes for a bit of heat.
Place in the oven and bake for 15-20 minutes until golden brown. Note cooking times may vary. If you have leftovers you can place them in airtight containers or just use some plastic wrap on them. (Please scroll down to see the printable recipe card.)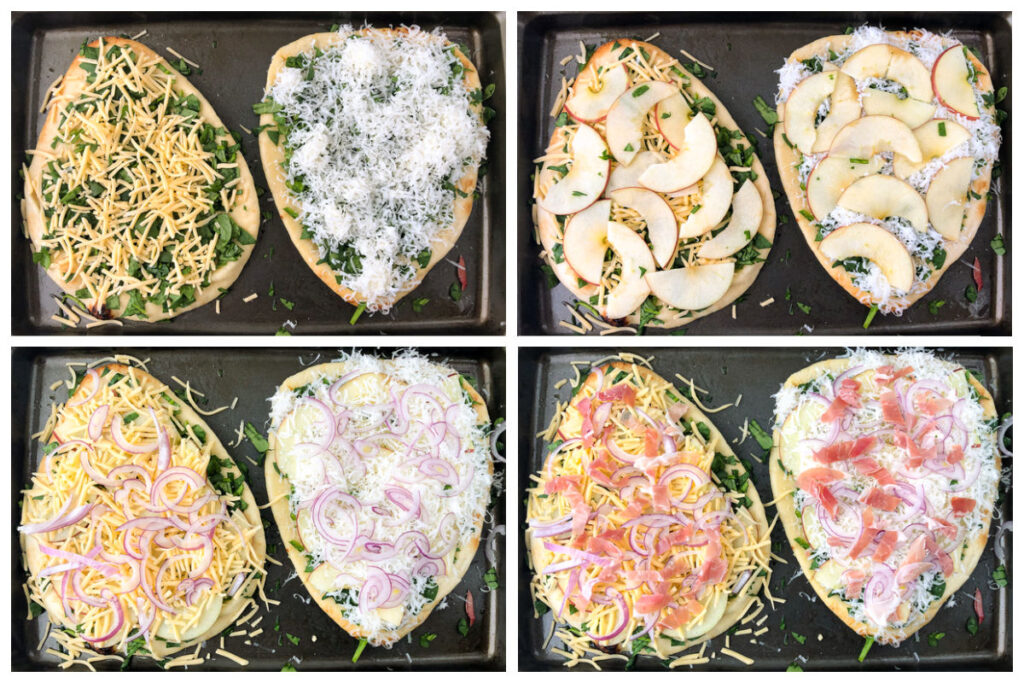 So the layers go like this: spinach -> cheese -> apple slices -> more cheese -> thin red onion and prosciutto.
These flatbread pizzas make great appetizers for a party!
I've made flatbread pizzas for a party as appetizers many times. You can use all kinds of toppings and the naan is super flavorful.
What I did is instead of cutting these as I would a pizza, I cut them into smaller pizzas. Try this recipe or one of my other flatbread recipes such as basil & peach flatbread and a sausage &peppers flatbread.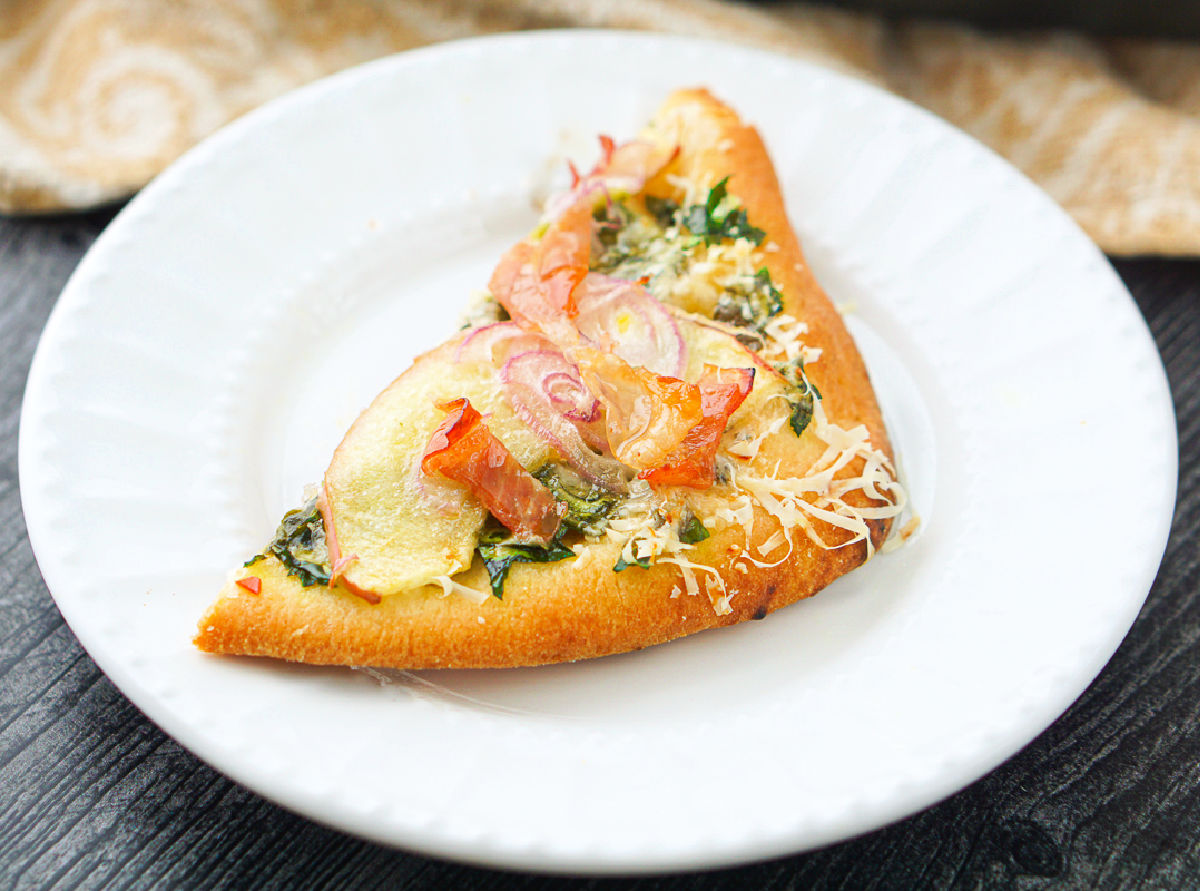 Other topping combinations to try.
You can really play around with the flatbread ingredients but here are few for you to try or make your own flavor combination.
pear slices, goat cheese, spinach and walnuts
feta, spinach, tomatoes and olives
bacon, baby kale, caramelized onions, gouda cheese
swiss or gruyere cheese, ham, bacon and red onion
blue cheese, figs, arugula and fresh thyme
mozzarella cheese, tomato sauce and your favorite pizza toppings
You can try different kinds of apples (honey crisp, fuji, Granny Smith) or other fruit and cheeses (blue cheese, goat cheese, manchego, white cheddar) combinations for different tastes.
This easy flatbread recipe makes a quick and easy dinner or as an appetizer for a party. This is a great way to use tasty fall apples and cheeses. Enjoy!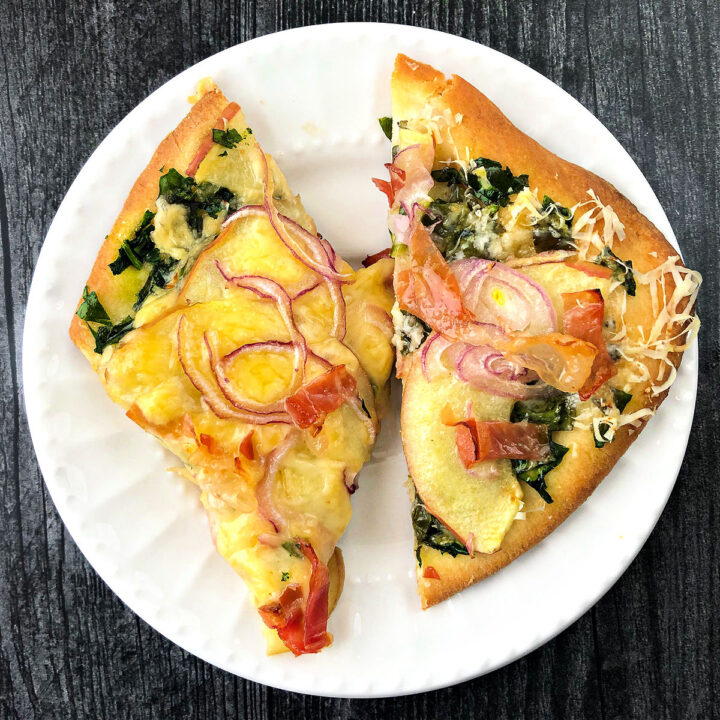 Easy Apple and Cheese Flatbread Pizza Recipe
These easy apple & cheese flatbread pizzas are made from naan bread and make for a delicious meal or appetizer. Using seasonal apples and tasty cheeses you can make these flatbreads in minutes.
Ingredients
2 naan breads
1 apple thinly sliced
1 tablespoon olive oil
1 cup shredded gouda cheese
1 cup baby spinach, chopped (or arugula)
1 cup asiago cheese, shredded
1 oz prosciutto, finely chopped
½ red onion, thinly sliced
Instructions
Preheat oven to 350°F. Spray a baking sheet with nonstick cooking spray
Place both naan breads on a cookie sheet sprayed with oil and brush olive oil over them making sure to get the crust area well.
Lay the chopped spinach or arugula on both flatbreads.
Sprinkle ½ of the gouda on one flatbread and ½ of the asiago on the other.
Layer a few pieces of the apple on top of the cheese for both flatbreads.
Sprinkle the rest of the gouda on the gouda flatbread and the rest of the asiago o the asiago flatbread.
Add the red onion slices on both flatbreads and then sprinkle the chopped prosciutto on both.
Bake for 15-20 minutes. If you want the cheese to brown more, place under the broiler for an additional minute or two.
Nutrition Information:
Yield:

8
Serving Size:

1
Amount Per Serving:
Calories:

208
Total Fat:

12g
Saturated Fat:

6g
Trans Fat:

0g
Unsaturated Fat:

5g
Cholesterol:

32mg
Sodium:

406mg
Carbohydrates:

16g
Fiber:

1g
Sugar:

4g
Protein:

10g