Dinner in 20 minutes featuring ramps, sausages and the easiest cauliflower mash. This is the easiest recipe for cauliflower mash using the microwave.
Did you ever have one of those nights where you had to get dinner on the table and you really had put no thought into it? Of course you did. Everyone does I imagine. Well yesterday was one of those days. I looked in my freezer and saw that I had some of these flavored sausages from Trader Joes and my brother's friend had just dropped off some ramps he foraged (thank you Mike R.!) and I craving some cauliflower mash so here is my dinner that only took 20 minutes and honestly it was quite good.
Below are the ingredients to this meal. All I added was butter. I used butter in the cauliflower mash and a sautéed the ramps in butter as well. Everything is better with butter!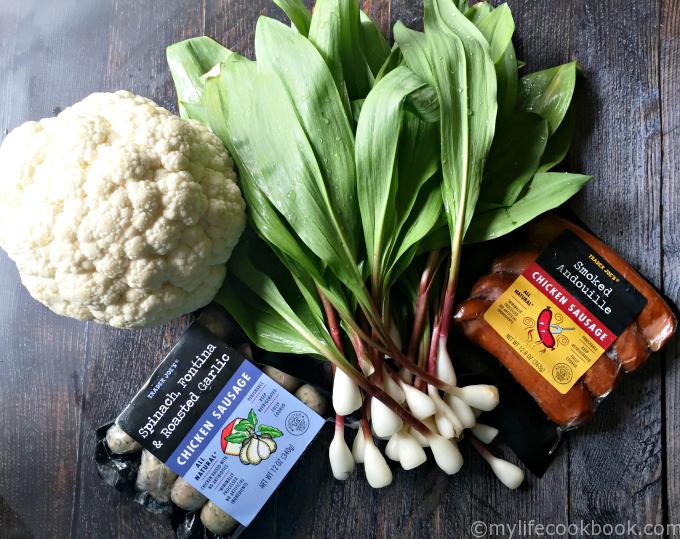 Did you ever have ramps? Below you can see a picture of them. They are pretty aren't they? My brother in law gave me some ramps last week and that was the first time I ever had them (thank you John M.!) He said to sauté them in butter and that's all I did. They were delicious! They tasted like a cross between onions, garlic and shallots and the leaves tasted like…well greens. So when you sauté them in butter it's like making garlicky greens all in one. Super easy and tasty. I believe they are only found in the springtime but it's something I will make sure to eat again.
All I had to do with the sausages was brown them in a skillet while I cooked the ramps. That left the cauliflower mash. This is the easiest recipe I've found for it and it's super tasty in my opinion. All you do is cut up a head of cauliflower and 2 tablespoons of butter and put them in a microwaveable bowl. Put them in the microwave and cook for 10 minutes. Mix and cook again until they are done. It took me 15 minutes until I could pierce them with a fork easily. Then you add everything to a high speed blender or food processor and puree. I have never used a food processor but I imagine it works just as well.
The above picture on the left is what it looked like after it cooked in the microwave and the picture on the right is what it looked like in my Vitamix. I didn't even use salt or pepper. They come out creamy smooth and tasty.
Easiest Cauliflower Mash

So that is my dinner in 20 minutes. It was easy, tasty and I would think pretty healthy. I'm sure you might not have ramps on hand (considering I just ate them for the first time last week) but you could easily substitute any green vegetable. Sometimes the simplest meals are the tastiest. Enjoy!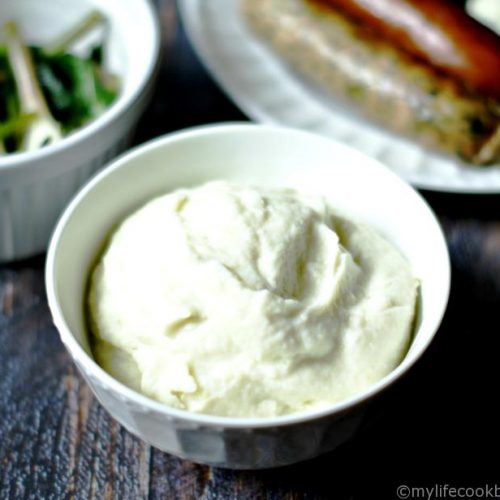 Easiest Cauliflower Mash
This is the easiest and most delicious way to make cauliflower mash. To me it tastes better than mashed potatoes and doesn't need gravy.
Ingredients
1

head of cauliflower

2

Tablespoons

of butter
Instructions
Cut up your cauliflower into florets and place in a microwaveable bowl.

Add the butter.

Microwave on high for 10 minutes.

Mix and microwave for 5 more minutes.

Test the florets to see if a fork can easily pierce them. If not cook for a few more minutes.

Once the cauliflower is cooked, add to a high speed blender or food processor and blend on high until you reach a mashed potato consistency.

Season with salt and pepper if you wish.