This chocolate berry bread pudding has the delicious combination of berries and chocolate wrapped up in the goodness of bread pudding.
I'm rather new to bread pudding. It is not something that my mom made or really anyone in my family. I was blissfully unaware of this dish until I was watching  the Food Network and I saw someone make a white chocolate blueberry bread pudding. That caught my attention! I happen to love the combination of chocolate and berries (chocolate strawberry treats, chocolate berry parfait ) so I decide to give this bread pudding stuff a try. This chocolate berry bread pudding is my first attempt and I'm pretty excited about it. I mean bread, chocolate and berries….great stuff right?!
The reason I decided to make this dish is because I had a lot of good crusty bread leftover. I was on a sandwich kick (something out of the ordinary for me) and had bought a few loaves of good hearty bread and had a lot left over. That's when I remembered that Food Network bread pudding and thought to make my own.  I'm one of those people who hates to throw food away. Not sure if that is good or bad, but that trait comes in handy when you are making bread pudding because it calls for stale bread!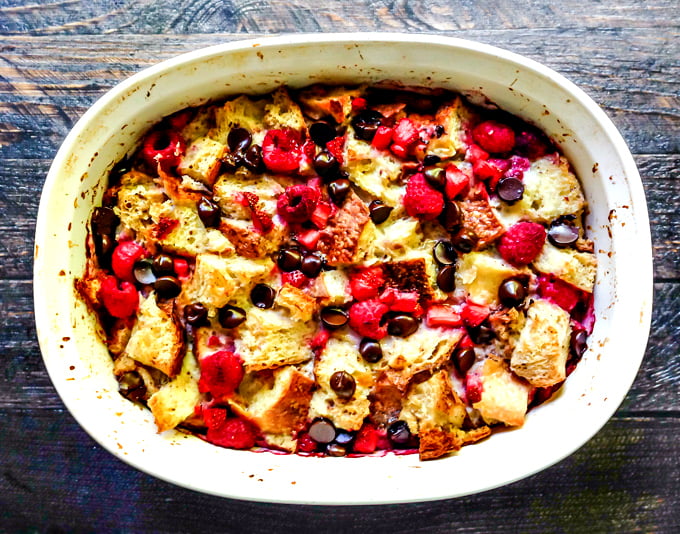 Typically most recipes seem to use a sweeter bread like brioche but other breads will work too. I used French bread and a multigrain bread and it was just fine. I just cubed the bread and tossed it with a mixture of egg, cream, milk, sugar and spices. Then let it soak for 15 minutes and added the berries and chocolate. Popped it in the oven and I had myself a tasty bread pudding 40 minutes later.
Chocolate Berry Bread Pudding
This is not super duper sweet. I think it would be great for breakfast as well as dessert. Actually I ate it for breakfast and dessert. So I hope you like this chocolate berry bread pudding. As I mentioned it's my first foray into bread puddings. Do you have a favorite flavor combination? I'd love to hear about it since this is all new to me. Enjoy!
Chocolate Berry Bread Pudding
This chocolate berry bread pudding has the delicious combination of berries and chocolate wrapped up in the goodness of bread pudding.
Ingredients
5

cups

stale bread

cubed

2

cups

berries

4

eggs

¾

cup

sugar

1 ½

cup

milk

½

cup

cream

2

teaspoons

vanilla

½

teaspoon

cinnamon

½

cup

dark chocolate chips

1

Tablespoon

butter

melted
Instructions
Preheat the oven to 350 degrees.

Spray a baking pan and set aside.

Cube your bread and place in the baking dish.

In another bowl, add your eggs, milk, cream, vanilla, sugar and cinnamon and whisk until well combined.

Pour over the bread and mix to make sure all the bread is covered with the egg mixture.

Let sit for 15 minutes.

Then add your berries and lightly mix with the bread to incorporate.

Sprinkle your chocolate chips over the top.

Drizzle the melted butter over everything.

Place in the oven and bake for 40 minutes.

Make sure the middle is not soggy. Once it's firm take it out and serve.