This slow cooker keto creamed spinach recipe only needs 3 ingredients and is done in a hour. It's a great way to to make a big batch since the spinach leaves cook down so much. It is a rich and tasty, low carb side dish that only has 2.7g net carbs. It's a great side dish for a holiday meal!
You might also like this slow cooker keto greens Alfredo recipe.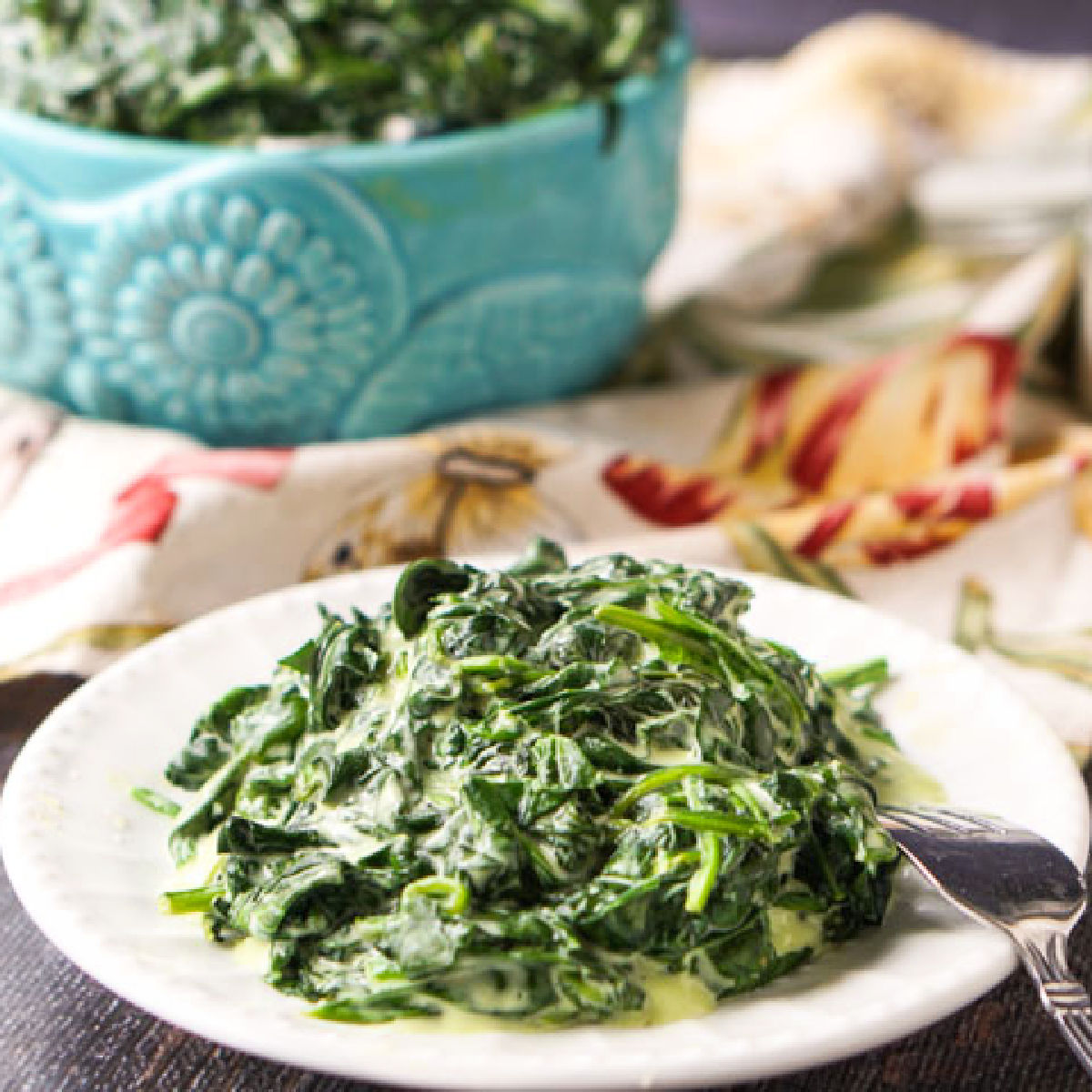 Creamed spinach is not something that I grew up on. Actually I don't think I ever had it until Boston Market came along and I had it there. Now I love it and since I'm on a low carb diet, I thought this would be the perfect side dish to make for Thanksgiving or Christmas.
So today I have made for you this slow cooker keto creamed spinach recipe. It only takes 3 ingredients and 1 hour in the slow cooker. But the best thing is that you can dump your ingredients and walk away.
Making a big batch of this creamy spinach is much easier in the crock pot especially when you are using 20 ounces of spinach! And there is no flour so it's gluten free too.
Other keto creamy vegetable recipes to try.
I have a thing for creamy, cheesy vegetables because they are tasty and usually low carb. I have made a creamy green bean casserole for Thanksgiving and Brussel sprouts with cheese sauce. But this spinach dish is my favorite recipe. My chicken and creamy spinach skillet dinner is similar to this but it's more creamy than cheesy. It is out of this world too.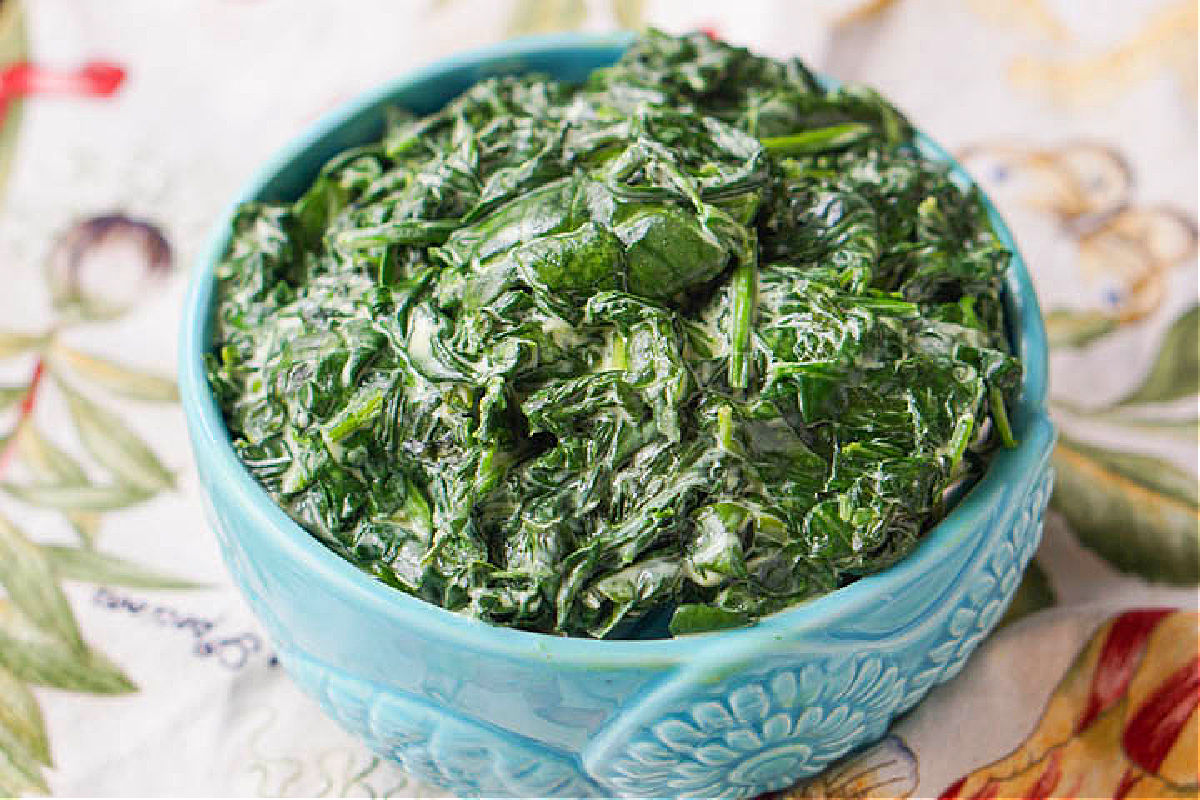 Recipe ingredients I used and substitutions.
Originally I made this with a big bag of spinach and Cabot sharp white cheddar cheese. This time I'm just using simple ingredients I bought at Aldi – fresh spinach, sharp cheddar and cream cheese. I also used salt and black pepper to season.
Fresh Spinach
I like to use fresh baby spinach leaves for this recipe because they are very tender, small and the stems are shorter. You can use those big leaves of spinach you sometimes find and take off the stems if you want. You should also chop it up because it will be big pieces of spinach. I would not use frozen or canned spinach for this recipe.
Note you use A LOT of spinach for this recipe. That's why I make it in the slow cooker because it has more room and just seems easier. I used 4 of these 5 ounce boxes of spinach for a total of 20 ounces.
Sharp Cheddar Cheese
If you can find a good sharp cheddar cheese whether it's white or orange go ahead and use that. It will add more flavor than medium cheddar. I just use the block instead of shredded cheddar cheese because that's what I had. Sometimes it less carbs and definitely less additives if you grate it by hand.
You can also add a bit of grated parmesan cheese or asiago cheese in place of some of the cheddar if you want. Another type of cheese that would go good would be gruyere or Swiss cheese. It's up to you.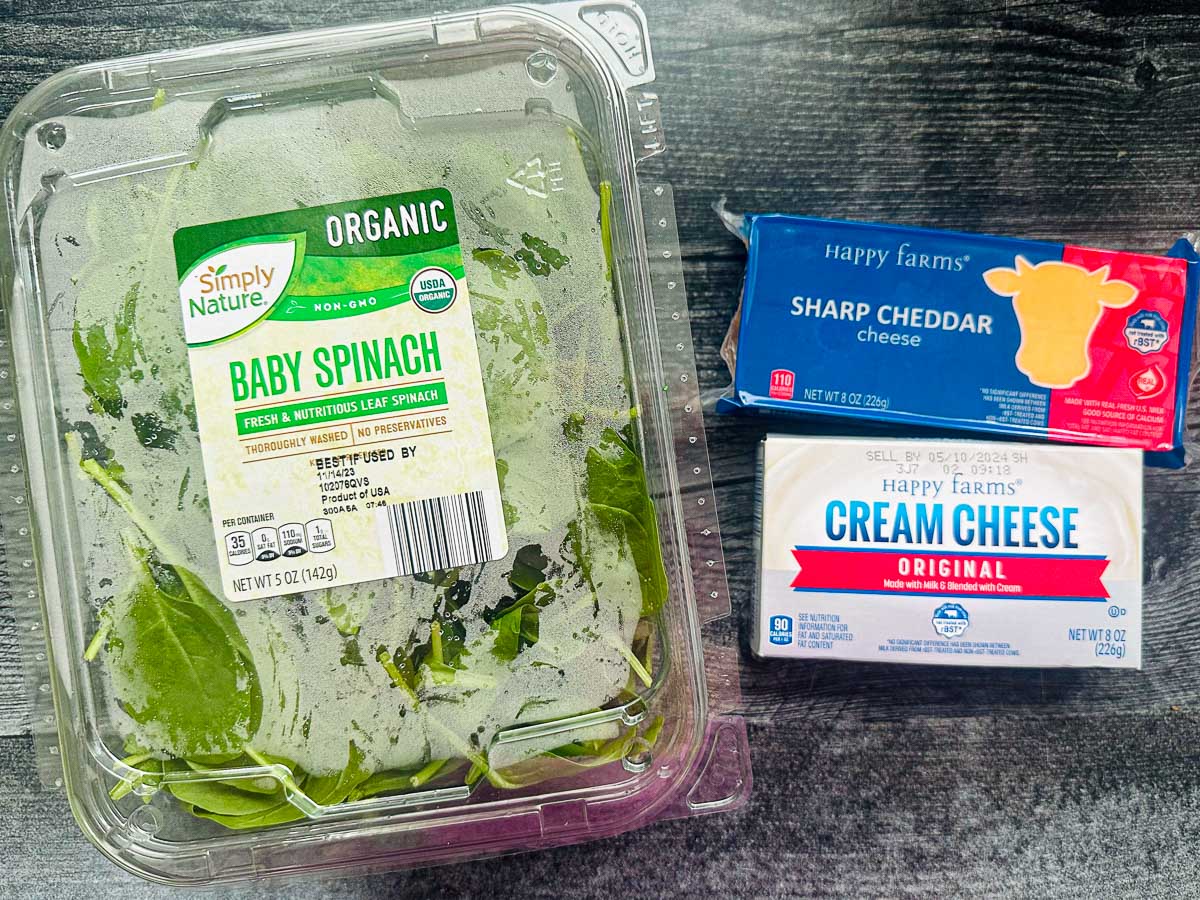 How to make keto creamed spinach in the slow cooker.
Step 1: This dish is super easy. First chop up the cream cheese into a few chunks and add to the bottom of the slow cooker. The add the fresh spinach leaves. Note you might not be able to fit all the raw spinach but it will eventually start to wilt and then you can use the rest.
Step 2: Turn the slow cooker on high and cook for about 1 hour. Make sure to stir it about 20 minutes in and see if you can add the rest of the spinach if it doesn't fit at the beginning.
Step 3: After an hour take off the lid and stir for a few minutes to make sure everything is well combined with the cream sauce. I like my spinach a bit fuller and not as cooked down.
If you want yours more cooked down put the lid on and cook for about 10 minutes more. So cooking time may vary depending on how you like it's cooked.
Above you can see how much it cooks down. At this point you could probably put even more spinach in as there is a quite a bit of sauce. That is up to you. The spinach wilts pretty quickly.
Store leftovers in an airtight container. This also good for low carb meal prep because it's freezes well. So you can get a few freezer safe containers and freeze portions for busy weeknight meals.
Please scroll down to view the printable recipe card.
How much does this creamy spinach recipe make?
The only downside of this recipe is that it only makes about 6 decent size servings. Yes that's right. I filled the crock with spinach and you can see how much it cooks down.
Since I've updated this recipe it made 6 portions. I froze 3 of them and ate the other 3 for lunch and dinner!
Of course you don't have to do this in a slow cooker, you can easily do this is a skillet or pot, it's just hard to manage all the spinach so I liked making it in the slow cooker.
This crock pot keto creamed spinach was like pure low carb, comfort food to me. I hope you give this one a try. It's a great way to get those leafy greens in your diet and also great for picky eaters. Enjoy!
Please Note: I updated this recipe to use more spinach to increase the serving to 6 from 4. This brought the carbs down and so the nutrition for one serving is:
157 cals / 12.3g fat /4.7g carbs 2g fiber / 8g protein = 2.7g net carbs
Slow Cooker Keto Creamed Spinach Recipe
Total Time:
1 hour
5 minutes
This 3 ingredient slow cooker low carb creamed spinach is a rich and tasty, keto side dish that you can make in no time at all! Each serving is only 2.7g net carbs.
Ingredients
20 ounces baby spinach leaves
4 ounces cream cheese
4 ounces sharp cheddar cheese, grated
salt and black pepper to taste
Instructions
Add the cream cheese to the slow cooker, then the spinach and lastly the cheddar cheese. If you can't place all the spinach in the crock then wait for about 20 minutes mix it around a bit to wilt the spinach more and then add the rest.
Cook on high for 1 hour.
Take off the lid and mix until everything is well combined. If you have a lot of liquid you can add more spinach or drain a bit if you don't want it.
Place creamed spinach into a bowl and serve. Store leftovers in an airtight container. This freezes well so you can freeze portions for later if you want.
Notes
The nutrition for one serving is:

157 cals / 12.3g fat /4.7g carbs 2g fiber / 8g protein = 2.7g net carbs
Nutrition Information:
Yield:

6
Serving Size:

1 grams
Amount Per Serving:
Calories:

157
Unsaturated Fat:

0g