These easy beer batter fish nuggets are perfect for a family fish dinner. Skip the fish fry this year and make your own crispy, fried fish with an easy sriracha tarter sauce!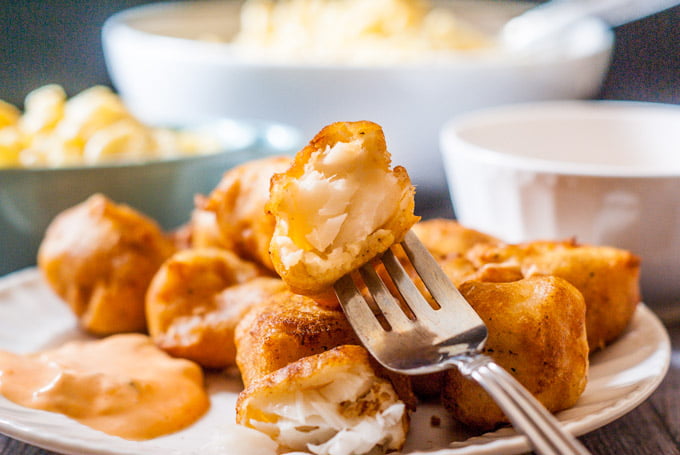 I'm not sure if it's like this every where but in Pittsburgh during lent, we have fish fries all around the city. Usually churches but also fire halls and most restaurants offer fried fish sandwiches and sometimes fried shrimp. They also have all those comforting side dishes like homemade mac & cheese, pierogies, haluski, coleslaw and more. We look forward to trying different places every year. However this year it was so crowded at our local fire hall that I decided to try my own. And so today I have for you some easy beer batter fish nuggets. Much easier than I thought and very, very tasty with the sriracha tarter sauce!
I've been expanding my fish repertoire over the years. Recently I made Paleo coconut shrimp with fruit salsa, a peppered tuna steak and a few tilapia dishes that you can see at the bottom of this post. I like fish but I'm also intimidated by it. I don't have a deep fryer so I never thought to make fried fish at home. But this year I wanted to give it a try and it was pretty easy. I'm not gonna lie. I don't feel quite right using all that oil to fry in and eating all these carbs but every once in a while can't hurt ya right?
And of course I had to make a creamy white cheddar mac and cheese for my son who loves it. I learned how to make it in the  Instant Pot and it's just so darn easy. I tried making homemade mac & cheese once and Max didn't like it so I gave up. This time he ate two helpings so Yeah!
To make the fish I used 1 lb of frozen cod cut up into big chunks. This makes about 22-24 nuggets. Then you set up two shallow bowls. One with flour and some seasonings and the other with the beer batter. Dry off the fish nuggets and then dredge them in the flour and then batter. Two things I learned from this recipe. 1) Get your oil really hot. I don't have a thermometer but I had my burner on high and I used a heavy cast iron dutch oven so there wouldn't be much splattering. 2) Make sure your batter is not too thick. The first batch I used a half bottle of beer and then I ended up adding a bit more for the second batch. 
Easy Beer Batter Fish Nuggets
The sriracha tarter sauce is simply mayo, a chopped up dill pickle, garlic and sriracha sauce. It was a nice complement to the fish nuggets. So I can say I now know how to fry fish though I don't think I'll make a habit out of it (because of all that oil). But if you are in the mood a good fried fish you should definitely give it a try. I know your family will love it!
Easy Beer Batter Fish Nuggets with Sriracha Tarter Sauce
These easy beer batter fish nuggets are perfect for a family fish dinner. Skip the fish fry and make your own!
Author:
Denise Wright (MyLifeCookbook.com)
Ingredients
Fish Nuggets
1 lb cod filets
1½ cup flour
1 teaspoon of salt
½ teaspoon garlic salt
1 teaspoon pepper
½ teaspoon onion powder
¾ bottle of beer
⅓ bottle of vegetable oil for frying
Sriracha Tarter Sauce
½ cup mayonnaise
1 teaspoon garlic, crushed
2 tablespoons of finely chopped dill pickle
1 tablespoon sriracha sauce
Instructions
Sriracha Tarter Sauce
Mix the mayo, garlic, dill pickle and sriracha sauce together in a small bowl and refrigerate until ready to use.
Fish Nuggets
If you don't have a deep fryer, use a heavy deep pot to bring your oil to a very high temperature. You can check to see if it's ready by dropping a few drops of batter into the oil. If it starts to boil and sizzle it's ready. I had to keep my burner on high at the beginning and reduced it a bit after awhile.
For the fish, cut the cod into pieces and blot with a paper towel.
Prepare two shallow bowls. In one add ½ cup of flour, ½ teaspoon of salt and ½ teaspoon of pepper and mix well.
In the other bowl, add 1 cup of flour, ½ teaspoon of salt, ½ teaspoon of pepper, onion powder, and garlic powder. Mix well before slowly adding the beer to this bowl and whisking to combine. The batter should be a little thinner than pancake batter.
Dredge the fish in the flour and then the batter and then lower into the hot oil. You may have to do these in batches.
Once they start to brown, turn them over. It shouldn't take but 3-5 minutes per batch.
Let them drain on a piece of paper towels.
THIS POST MAY CONTAIN AFFILIATE LINKS. FOR MORE INFO PLEASE VISIT OUR POLICIES PAGE.
---
More fish dinners to try!